(CNN) -- World No. 2 Phil Mickelson has revealed that he may join the European Tour if tournaments such as the Singapore Open are added to its calendar.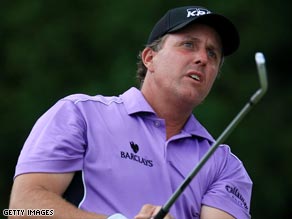 Phil Mickelson claims that the American golf scene has stagnated in recent years.
The American will again play in Singapore next month after defending his title at the HSBC Champions title in Shanghai from November 6-9.
The Chinese event is the first in a revamped European Tour schedule for 2009 which will see a new lucrative season finale -- the $20 million Dubai World Championship next November at the end of the inaugural Race to Dubai.
Mickelson's fellow U.S. Tour and Ryder Cup star Anthony Kim has already joined the European Tour -- for which each player must enter at least tournaments -- along with Colombia's Camilo Villegas.
Mickelson this year went over $1 million for the 13th straight season on the U.S. Tour, but told reporters on Wednesday that he is thinking of broadening his horizons.
"Certainly the dollar weakening over the past few years has made foreign currencies much stronger, making the purses much larger," he said in a conference call, Reuters.com reported.
"The U.S. golf industry has been stagnant for quite some time, so all of our growth had been occurring on a global basis.
"As a professional golfer we have to adapt to that, and that means playing more internationally because that's where the opportunities are and that's where they'll continue to grow."
The 38-year-old left-hander indicated that Singapore's possible inclusion in the future may sway his thinking about becoming a full member of the European Tour.
"If it were to become a European Tour event, it would be great for me because it would be included as one of the now 12 events that are needed to be a European Tour member, which although I haven't joined it's something I'm considering," he said.
"(Shanghai) was one of my biggest wins internationally and gave me a lot of exposure into China and into many of the Asian markets," Mickelson said.
"The more opportunities we can have where top players can play throughout the world and expose those parts of the world to the game at the highest level I think will help grow the game."
Meanwhile, new world No. 3 Sergio Garcia has revealed that he played a part in convincing his fellow U.S. Tour stars Kim and Villegas to sign up for the European circuit as well as their American duties.
"I think any time you can get players of the caliber of Camilo and Anthony into the Tour, it's great," the 28-year-old said ahead of this week's European Tour finale at Valderrama in Spain.
"It's an asset and it's good for golf. It's good for the European Tour and it's nice to see those guys move around a little bit and not only play in the US. We'll welcome them with open arms and we hope they can enjoy it as much as we do.
"They asked me a couple of things and I told them how the Tour is. Everything seems to be a little bit more relaxed in Europe. Don't get me wrong, when we go out there we are all trying our hardest and we are all trying to win. But outside of that everything seems to be a bit more relaxed.
"I think it's a little bit looser here. You get along and have dinners and all of those kind of things. I think that's probably one of the things that they enjoyed and obviously the Race to Dubai is a big asset too."
This week, the U.S. Tour moves to Palm Coast, Florida, for the Ginn Sur Mer Classic -- the penultimate tournament for those players seeking to secure a place in the top-125 and a full playing card for next year.
Davis Love is in the field despite moving up to 115th last week and guaranteeing his place for next season, as he seeks to earn $1 million or more for the 14th consecutive season.
Veteran Mark Calcavecchia is 127th on the money list but is exempt for next season due to his previous tour victory in 2007, but Australia's Steve Allan (131), 2006 U.S. Ryder Cup player Vaughn Taylor (129), and fellow American Jason Gore (135) are among those with plenty to play for.
E-mail to a friend

Copyright 2008 CNN. All rights reserved.This material may not be published, broadcast, rewritten, or redistributed. Associated Press contributed to this report.
All About Phil Mickelson • PGA European Tour Results • PGA Tour • Golf