(CNN) -- Spanish golf legend Severiano Ballesteros continues to improve as he recovers at Madrid's La Paz following recent surgery to remove a brain tumor and can now converse with his family.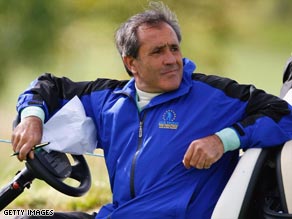 Ballesteros said he faced the "hardest challenge of my life" after being diagnosed with a brain tumor.
The 51-year-old golfing great remains in ICU, but a hospital statement on Monday said that his condition "continues to evolve favorably."
The statement added that Ballesteros "is conscious, is breathing spontaneously and can talk with his family. He has begun to receive rehabilitation treatment in the Internsive Care Unit."
Ballesteros underwent a third operation, lasting six and a half hours, on October 24 to remove what remained of the tumor and reduced the swelling on his brain.
The Spaniard was admitted to the hospital on October 5 when he briefly lost consciousness while at Madrid's international airport.
He underwent a first operation on October 14, when a sizable part of the tumor was taken out.
In a second operation, on October 16, a part of his skull was removed -- a procedure known as decompressive craniotomy -- to allow room for a swelling brain to expand.
Doctors said it was not uncommon after such complex operations.
In a statement posted Monday on Seve's official Web site, his brother Baldomero Ballesteros said: "The children, brothers and family of Severiano Ballesteros wish to thank the thousands of people in Spain and abroard for the different tokens of affection and messages of support that Seve and all of us are constantly receiving."
Baldomero added: "Seve is putting as much positive strength in this battle as he is capable of.....something he has been showing us ever since he knew the nature of his illness.
"With the help of God, the neurosurgeons and their team and those who are keeping watch over his health status....we trust with an unquestioning faith that Seve will come out successfully from this hardship."
Ballesteros, who won three British Opens and two Masters, lifted a record 50 tournament titles on the European Tour. He retired last year because of a long history of back pain and has since concentrated on golf course design.
Ballesteros transformed European golf. After the Ryder Cup was expanded to include continental Europe in 1979, Ballesteros helped beat the United States in 1985 to begin two decades of dominance.
He also captained Europe to victory in 1997 at Valderrama, Spain.
Ballesteros and Jose Maria Olazabal made one of the most formidable partnerships in Ryder Cup history, with 11 wins, two losses and two halves.
E-mail to a friend