(CNN) -- Spanish golfer Seve Ballesteros could be moved from intensive care next week as he continues to recover from an operation to remove a brain tumor, a hospital statement said Friday.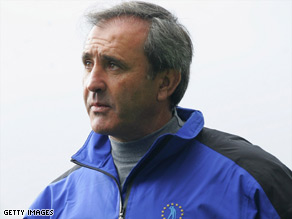 Seve Ballesteros pictured during his own Seve Trophy tournament in 2007.
The La Paz hospital in Madrid issued a short statement to say that the 51-year-old's neurplogical condition was "evolving favorably."
Last month, the hospital revealed Ballesteros had also undergone a tracheotomy -- a procedure it called common in cases like his -- as well as a six-and-a-half hour operation on the brain tumor.
The operation removed what remained of the tumor and reduced the swelling on his brain.
The Spaniard was admitted to the hospital late on October 5. He underwent a first operation on October 14, when a sizable part of the tumor was taken out.
In a second operation, on October 16, a part of his skull was removed -- a procedure known as decompressive craniotomy -- to allow room for a swelling brain to expand, the hospital told CNN.
Doctors said it was not uncommon after such complex operations.
Ballesteros, who won three British Opens and two Masters titles, briefly lost consciousness while at Madrid's international airport on October 5.
In a personally signed statement from his hospital bed, Ballesteros said he faced the "hardest challenge of my life."
Ballesteros, who won a record 50 tournaments on the European Tour, retired last year because of a long history of back pain and has since concentrated on golf course design.
Ballesteros transformed European golf. After the Ryder Cup was expanded to include continental Europe in 1979, Ballesteros helped beat the United States in 1985 to begin two decades of dominance.
He also captained Europe to victory in 1997 at Valderrama, Spain.
Ballesteros and Jose Maria Olazabal made one of the most formidable partnerships in Ryder Cup history, with 11 wins, two losses and two halves.
He has received a string of tributes and goodwill messages since entering hospital and fellow Spaniard Sergio Garcia dedicated his recent victory at the Castello Masters to his mentor.
E-mail to a friend

CNN Madrid Bureau Chief Al Goodman contributed to this report.