By Emily Chang
CNN Correspondent
BEIJING, China (CNN) -- The first thing I saw was the students marching in two almost-straight lines into the classroom. All of them second-graders, six to eight-years-old.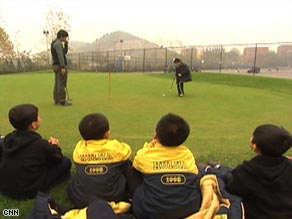 Children in China are being taught to play golf where etiquette is just as important as technique.
Some looked at us curiously and giggled. Others stared obediently ahead. Once inside, they all bowed in unison, "Laoshi hao," or "Hello, teacher." I've never seen kids so well-behaved.
Their teacher, Mr. Li had written a poem on the board to help them remember rules on the golf course.
He asked them to recite it and suddenly the energy of a room full of little voices was unleashed: "Have the manners of a gentleman, consider others, be polite!" they chanted. "Be safe, dress properly, don't stomp on the grass!"
The students were told to take five minutes to memorize the poem, then say it with their backs turned to the board.
When Mr. Li called for volunteers, little hands shot up, eager to showcase their memory. When Mr. Li asked questions, "How many holes on a golf course? How many clubs in a golf set?" the little hands darted up again. "18 holes!" "13 clubs. Driver, iron, putter!" They seemed totally un-phased by the camera crew zipping between the desks to catch their most animated facial expressions.
This is the first year golf is mandatory for second-graders at Beijing's Hujia School. The goal is not just to improve techniques, but more importantly teach them etiquette. "Most of the families of these kids are very wealthy," Mr. Li told me, "Golf is very helpful for their social networking."
Golf came to China relatively late in the game. The first course opened in the mid-1980s, and not without controversy.
The Chinese government has long considered golf to be an elitist sport, once calling it "green opium," a sport that only the rich can afford to play, that takes arable land away from farmers.
But even Communist Party officials have been known to spend hours on the course, along with some of the richest businessmen.
And golf is gradually becoming more accessible. Now there are more than 300 courses. Some say China just needs a golf star to popularize the sport, as Yao Ming did for basketball.
Golf is also becoming more common in the curriculum at public and private schools.
The aim may be to cultivate discipline -- at Hujia most students were exceedingly polite -- but others were squirming just like little kids do.
And when they finally got out of the classroom and onto the green, almost all of them seemed to be having fun.
"Even when class is over, I want to keep practicing golf so I can get better!" little Zhou Zejun squealed.
His teacher did admit he hopes his students learn more than manners.
"If they're interested, the kids with the best skills can train professionally," Mr. Li told me. "One day maybe there will be a player as good as Tiger Woods in China."
E-mail to a friend

All About Golf