(CNN) -- Spanish legend Severiano Ballesteros has left intensive care after his fourth operation, the Madrid hospital at which he is being treated have confirmed.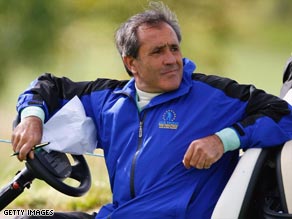 Ballesteros has undergone four operations since collapsing at Madrid airport on October 5.
The five-time major winner underwent further surgery on Tuesday for the placement of a cephalorachidian fluid VP shunt.
At the same time, the surgical team treating the 51-year-old performed a cranioplasty to repair a bone defect.
He remained in intensive care overnight being moved back onto the ward on Wednesday.
Ballesteros was diagnosed with a brain tumour after losing consciousness at Madrid Airport on October 5. He underwent a first operation on October 14, when a sizable part of the tumor was taken out.
In a second operation, on October 16, a part of his skull was removed -- a procedure known as decompressive craniotomy -- to allow room for a swelling brain to expand.
Ballesteros then underwent an intricate six-and-a-half hour operation on October 24 to remove what remained of the tumor and reduce the swelling.
Seve, who won a record 50 tournaments on the European Tour, has called the situation the "hardest challenge of my life."
He retired in 2007 following a long history of back pain and has since concentrated on golf course design.
A three-times British Open and twice Masters champion, Ballesteros is often praised for having transformed European golf.
He helped beat the United States in the 1985 Ryder Cup to begin two decades of dominance and also captained Europe to victory in 1997 at Valderrama in Spain
E-mail to a friend