LONDON, England (CNN) -- The controversy surrounding Donald Trump's plans to build a golf resort in Scotland continues to grow, as reports emerged this week suggesting the building of 500 homes on the site could be postponed.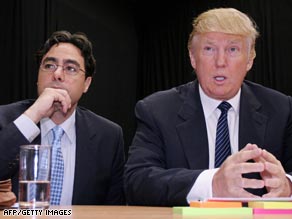 Sorial (left) was quoted in the British press seemingly confirming and denying delays to construction timtables.
However swift denials were issued, with claims construction plans had benefited from the current financial crisis.
Initially George Sorial, Trump's lawyer and managing director of international development for the Trump Organization, was reported in the British press saying they may find it hard to sell the houses due to "the slow-down in the market."
The houses form part of a proposed complex to be based outside of Aberdeen on the northeast coast of Scotland, which will also consist of two golf courses, a hotel and 950 holiday homes.

See images of the proposed golf resort »
The UK's Times newspaper quoted Sorial as saying: "The homes could take several years... We have to sell them, so we're not going to build anything until it feels right."
Have Your Say
Confusion reigned, however, when, a mere few hours later, Sorial was quoted in Scotland's The Scotsman newspaper as saying there was no change to the plans, and the lengthy timetable of construction "has nothing to do with the credit crunch."
He went on to say: "The residential component will not occur for several years. That is nothing new. That is how it was originally contemplated by ourselves and Aberdeenshire Council."
He also stated the economic downturn had improved the prospects of the resort -- a weakening pound has seen construction costs reduced dramatically.
Trump's proposals for a £1.6 billion ($1.45 billion) golf complex and resort were approved early November, despite initially being turned down in 2007, and coming under harsh criticism from local environmental groups.
E-mail to a friend