(CNN) -- Search engine rivals Google and Yahoo! announced Thursday that they had reached an agreement under which Google would deliver ads next to some of Yahoo!'s search results and on some of its Web sites in the United States and Canada.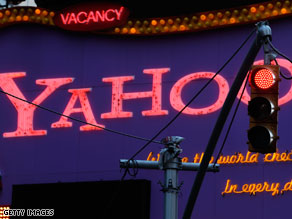 A Yahoo! sign is seen in New York's Times Square on April 22.
The news came after Yahoo! said it had failed to persuade Microsoft to renew its bid to buy all of the Internet company.
Yahoo! shares sank as low as $22.50 on news of the Microsoft talks failing, so will this new deal offer new hope to Yahoo! shareholders? CNN explains what the agreement means for Internet users.
What does the deal involve?
Yahoo! has agreed to let Google put search ads -- advertisements placed next to search results -- on its site in what it described as an $800 million annual revenue opportunity that would boost cash flow by $250 million to $450 million in the first 12 months.
To do this, Yahoo! will be given access to Google's AdSense technology for search and AdSense for content advertising programs on their U.S. and Canadian web properties. AdSense automatically delivers text and image ads that are precisely targeted to your site and your site's content.
What will it mean to users?
The short answer is nothing. The deal is all about advertising and the need for both parties to generate more revenue in a difficult market.
Google says by extending the use of this technology to their partners, the whole system will become more efficient and consumers will see more relevant ads when they are looking for information and browsing the web.
In addition to this publishers, currently in the Yahoo! Publisher Network, will benefit from Google's advertising technology, potentially increasing the revenue they earn from their sites. Advertisers will have new ways to reach their target customers online more efficiently.
Is this deal really just a merger?
Both companies say absolutely not. It is simply a deal to license the use of Google's advertising technology to other parties.
In actual fact Google and Yahoo!, No. 1 and No. 2 in search, will pit ads against each other in auctions for the ad that pays the most.
Will this increase Google's increasingly dominant share of search traffic?
Both companies emphasize Yahoo! will continue to run its own search engine and advertising programs. They insist the agreement will not increase Google's share of search traffic.
When will it all start?
The prospect of combining the top search ad vendors in one system is likely to raise eyebrows among some in the industry. However, both companies said the deal did not need regulatory approval but that they would delay its implementation by up to three and a half months to give the U.S. Department of Justice a chance to review it.
E-mail to a friend

All About Yahoo! Inc.