(CNN) -- This month, Just Imagine took a look at cities, the ways in which they might change in the future and what this might mean for the people who live in them.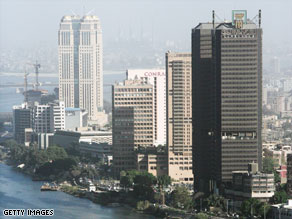 UN estimates everyday around 200,000 people migrate to cities like Cairo.
The United Nations estimates one in every two people in the world live in cities and that everyday almost 200,000 people migrate to urban areas.
By 2030, according the UN's human settlement program, over half the world's population will be urbanized. And over the next several decades, the UN says rural areas will experience a population loss of around 155 million.
Some people, like Stewart Brand of the Long Now Foundation, see the urbanizing world as a symbol of hope for humanity. Cities, according to Brand, are inherent generators of wealth and enable millions of people to lift themselves out of poverty.
Yet as nearly a billion people live in slums -- a number that is likely to double over the next 20 years -- others question whether shadow cities will come to characterize urban life in the 21st century and whether their proliferation is a sign of economic hope or a failure of the world community to come up with adequate affordable housing policies for the poor.
"It is a matter of land policy and accepting that everybody has to have a place to live in the city," said Edesio Fernandes, a professor of urban planning at the University of London and advisor for UN-Habitat. "We can't afford to keep making the same mistakes over and over again."
Developing countries are not the only places facing such a challenge. In places like the United States, once-affordable inner-city areas around the country are rapidly gentifying, forcing the poor to look elsewhere for places to live.
We want to hear your views. How should the world community cope with an affordable housing crisis? Are there alternative housing solutions outside of cities? What could be done today to prevent further affordable housing problems in the future? Post your thoughts in the Sound Off box below.
E-mail to a friend