(CNN) -- A group charged with overseeing the development of the Internet voted Thursday to relax the rules on Web site naming conventions -- potentially triggering a virtual domain name gold rush to rival the dotcom boom of the late 1990s.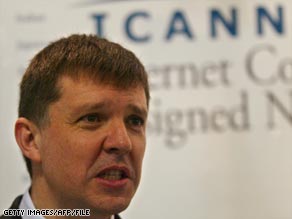 Paul Twomey is president and CEO of the Internet Corporation for Assigned Names and Numbers.
At a meeting in Paris Thursday, the board of the Internet Corporation for Assigned Names and Numbers -- also known by its acronym ICANN -- unanimously approved key proposals to allow domain names using any combination of letters and numbers, including non-Latin characters.
The decision could spell the end for traditional Web addresses ending .com and .org and country names like .jp or .fr with Web sites able to use easier-to-remember suffixes such as .hotel, .fishing or .sex.
There have been numerous requests for new top level domains such as .kids, .shop and .nyc. Last year, ICANN voted to not allow .xxx with its pornography-related overtones.
ICANN has taken years to decide on relaxing the domain rules in order "to preserve the security, stability, and global interoperability of the Internet" states the ICANN web site.
In the past, ICANN only approved domain names considered as adding value. Now it says the goal is to quickly approve nearly every domain name submitted unless there is a dispute over the name.
To avoid cyber-squatting, ICANN says those who register a new extension will have to prove they have a viable reason for it, and trademark names will not be auctioned.
Still, a bidding frenzy is expected for some of the more obvious extensions in what will become the biggest expansion of the Internet in decades.
Just the thought of .sex has bloggers predicting an auction frenzy, as almost any word in any language could become a domain name extension.
"You can almost guarantee the most highly sought-after one will, unfortunately, probably be dot-sex," said Bryan Glick of Computing Magazine.
"All the meaningful words and meaningful names in the English language have been bought up already," Glick said.

Watch Glick further explain the significance of such a move »
Don't Miss
"This is why you see new companies being formed with made-up, strangely sounding names ... in order to get a unique Web domain for it."
ICANN was established as a non-profit organization in 1998 in order to regulate the Internet. One of its key roles has been maintaining the integrity of the Web's domain name system. It has turned down requests for .xxx, which would be used by adult sites, over fear of seeming to give approval of pornography sites.
ICANN has yet to announce the process to register an application for a new domain or the fees involved but it has said the price for the extended domains could start at $100,000.
After a few more procedural hurdles, its expected companies and individuals will be able to apply for new domains in the first quarter of 2009.
E-mail to a friend

CNN's Jim Boulden contributed to this story.
All About Internet Domains • Internet Corporation for Assigned Names and Numbers