By Cherise Fong
For CNN
SHANGHAI, China (CNN) -- Down in the busy corridor of Shanghai's Nanjing Xi Lu subway station, a smiling salesman stands by a bright green kiosk. A guy walks up, and the two chat about music over the touch screen. The guy takes out his mobile phone and gives the salesman a few coins. A couple minutes later, another happy customer walks away, plugged into his handset and listening to the latest single by Russian singer Vitas.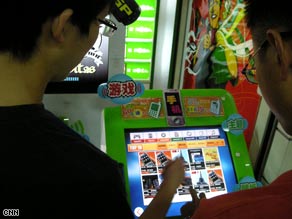 A Duo Guo salesperson assists a customer in browsing content for his mobile phone at a kiosk.
Are you getting the most out of your phone?
Shopping for mobile content in cyberspace -- music, games, applications, for example -- can be scary. Malware, pirated content, push advertising and general anarchy in the sheer quantity of information are often overwhelming.
Now go back to the place where you purchased your phone. If it's anything like the mobile phone paradise of Mongkok in Hong Kong, then it's a lively candy store full of kids ogling, testing, fondling and chatting over the latest models on display.
The thing with trendy handsets is, real space rules. So why can't we stay there to shop for content?
"Personally, I've had Internet access my entire life, but I've never bought a book on Amazon.com, only at Barnes & Noble -- because for whatever reason, I like to touch books, flip through them, have my friend next to me to talk about it," confesses Jonathan Serbin, who in early 2007 quit his job at one of China's biggest mobile phone retailers to start his own company Duo Guo.
Like a real-world, multi-platform, non-proprietary incarnation of the hype surrounding Apple's App Store for the iPhone, Duo Guo offers physical, public kiosks of digital mobile content -- complete with human customer service.
The Chinese name of the company literally means "many fruit," conjuring images of a jar full of jelly beans, or a grab bag of goodies -- for people who like to touch and feel.
Don't Miss
Serbin describes Duo Guo as "an alternative discovery and delivery platform for mobile content to reach customers in high-traffic retail settings."
The kiosks are situated in public venues such as subway stations, hypermarkets and other retail locations, where customers can simply walk up and browse through the touch-screen interface or ask a salesperson for assistance or recommendations, just like in a traditional shop setting.
Transactions are paid in cash, and purchases are then beamed immediately to the customer's phone via Bluetooth. Every step of the way, the sales staff is on hand.
Serbin founded Duo Guo in Shanghai after observing the huge demand, if not pent-up desire, of people to buy content for their mobiles right inside the store.
Many customers who had just spent close to a month's salary for a new mobile phone were then rearing to load it up with value-added content such as software, games and other multimedia entertainment.
But in most cases, they just didn't know how.
Assisted beaming
"Our sales staff is trained from Day One [on] how to use pretty much every phone on the market," Serbin says.
"They understand the phones. They understand where the content falls in the phone. So when you walk up as a customer, they can explain to you how to maximize the value of your phone. That's a service nobody else can offer."
Duo Guo's sales staff is young: Workers range in age from 19 to 23 years old, and are passionate about the product -- whether it's games, music or GPS mapping.
The young staff is tailored to its clientele: 80 percent of Duo Guo customers are between the ages of 18 and 32, and about 65 percent female. They are attracted by branded content and surf primarily for games, music, themes and wallpapers.
Another group is 30-something business people looking for higher-end applications, ranging from French-language training to stock-market trading.
There is also a small group of customers ranging from their 40s to 60s who have never turned on their Bluetooth before. Once Duo Guo staff show them how to load a mahjong game or a favorite song on to their mobile, says Serbin, these people become customers for life.
But for everyone, mobile applications include reservation services such as concert ticketing, airline booking, last-minute dining, special discounts and even banking that require a minimum of consumer training.
Meanwhile, Serbin has observed a fast-growing demand for electronic books in the form of novels, comics, magazines and periodicals, especially at kiosks located in subway stations.
Duo Guo's user interface also adapts itself to the customer's preferences, displaying a tailored selection of products that encourages serendipitous discoveries.
Surfing for gems
Most recently, Duo Guo inaugurated a partnership with an underground artists' social-networking site called Neocha, in order to introduce customers to more independent, less exposed images and sounds.
"If they created artwork, we can turn it into wallpapers. If they made music, we can turn it into ringtones," says Serbin. "It's a great platform for young, unsigned artists to reach a new audience with a sales force."
This month's featured artist is 24-year-old xinxuqi, whose ghoulish illustrations are available for individual download in the form of graphic-art wallpapers.
But the real Duo Guo attraction lies deeper within China, in third-, fourth- and fifth-tier cities, where some 10 percent, rather than 70 percent of the population in Shanghai, have broadband access at home.
While the China Internet Network Information Center announced 253 million Internet users in China by June 2008, China currently counts some 575 million mobile phone users, with 6 million to 7 million new subscribers every month.
"In these smaller cities, where the gap between people who have mobile phones and people who have Internet access gets wider and wider," says Serbin, "we've seen lines form around retail chains because people don't have other legitimate ways to get software."
Duo Guo currently has 25 stores in Shanghai, and is rapidly expanding within the next five months to Jiangsu and Zhejiang provinces, followed by northern and western China.
Hopefully soon, those colorful kiosks will also begin popping up overseas.
Serbin himself settled in China almost nine years ago, after his U.S.-based company had been sending him on frequent business trips to Asia.
"In early 2000, I refused to go back," recalls Serbin.
"Even at that point we were already doing 3 million new mobile phone subscribers a month in China. It was really hard to compare the excitement of what was happening here to what was happening in America.
"I came because my employers sent me here, but I stayed because the opportunity seemed phenomenal."
E-mail to a friend

All About China • Cellular Phones • Shanghai