By Mike Steere
For CNN






LONDON, England (CNN) -- Interior design is at a changing point.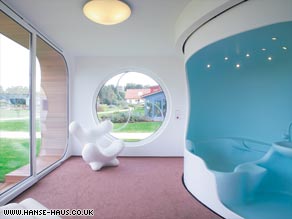 The integration of several rooms is a key feature of many of the homes of the future.
As cities and towns become more heavily populated, the issue of living in increasingly smaller spaces will undoubtedly put a physical squeeze on interior living.
At the same time an increasing awareness of our carbon footprint and the effect our style of living has on the environment will have further implications on how we construct the inside of our homes in future.
By looking at some of the innovations in interiors right now, Just Imagine has created a picture gallery exhibiting some examples of what the interior of our homes may soon look like.

View photos of futuristic interior design concepts »
Several clear trends have emerged in these designs.
Firstly, the use of plants is growing. Some plants developed to aid clean air production in the aerospace industry could be set for a move indoors, while, elsewhere plants could be used to clean water to enable greater recycling of the precious resource. What do you want homes to look like in the future?
Don't Miss
Secondly, kitchens remain the hub of the home. A huge number of the futuristic designs submitted to various competitions and exhibitions are kitchen concepts. From revolving benches to plant-filled and portable kitchens, there are some potentially radical new ideas for the future of our food-making fortresses.
Finally, a major theme of many of the future design concepts is the integration of different rooms. There is a notable move away from the idea of separate bathrooms and bedrooms. After all, why not have the bathroom in the bedroom?
And, as this effort is made to better utilize the diminishing personal living space we have, there is an even more radical concept yet: the rotor house. With just one neutral room and a revolving section of either bedroom, bathroom or kitchen, this could be the future of minimalist living.

Have a browse through the photo gallery and let us know what you think the interior of homes will look like in the future.
You can post your comments in the Sound Off box below - we'll publish the best.
E-mail to a friend