By Mark Tutton
For CNN





LONDON, England (CNN) -- There is to be a revolution in Paris -- plans for a 50-story building have been given the green light, which will make it the first skyscraper to be built in the city for 30 years.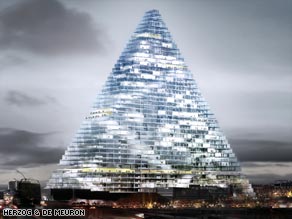 "Le Projet Triangle" is set to be completed by 2014, making it the first new skyscraper in Paris for 30 years.
A law limiting the height of new structures in central Paris has been overturned and now a number of high-rises are planned for the city.
But it's not just Paris that's reaching for the sky -- there's a new generation of innovative, exciting skyscrapers set to appear all over the world over the next 10 years.
Some truly mind-blowing structures are being planned for the Middle East. While the ever-growing Burj Dubai is already the tallest man-made structure in the world, the Nakheel Tower, also planned for Dubai, is set to go even higher. Developers suggest the finished building will be at least 1 km tall.

View the future skyscrapers »
Hot on its heels, the Burj Mubarak Al Kabir, proposed for the planned 'City of Silk' in Kuwait, could also break the 1000-meter barrier.
Don't Miss
While they may be mere midgets compared to the mega structures of the Middle East, Russia Tower in Moscow and the Okhta Center Tower in St Petersburg promise to provide some stunning eye candy.

Spiraling its way through the Chicago skyline, the Chicago Spire will have a striking corkscrew design, while a gleaming Freedom Tower is to be the highlight of the rebuilt World Trade Center. And proving the skyscraper renaissance is a global phenomenon there are stylish giants planned for Panama, Pakistan and South Korea.
In the short term, the credit crunch may make it harder to fund the construction of these mega structures, but long term, it seems that when it comes to futuristic high-rises, the sky's the limit.
E-mail to a friend