By Steve Mollman
For CNN
(CNN) -- In the world of music-making, quirky new instruments tend to come and go. But one description-defying gadget from Yamaha, the Tenori-on, might prove to be more than a fad.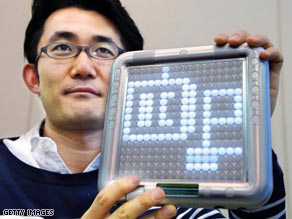 Will the Tenori-on go on and on, or is it just a fad?
First launched in the UK last autumn and this year in the States, the instrument quickly earned media accolades for being innovative both musically and technologically.
Prominent musicians like Bjork are using it for performances and recordings. One Japanese band, The Tenorians, named itself after the instrument and uses it to churn out hard-driving electronica.
But most of all, the Tenori-on has one big advantage that most quirky new instruments never get: backing. This device didn't come from somebody's garage. It came out of a large manufacturer capable of making lots more Tenori-on (and a variety of versions).
It's an unlikely tale. Yamaha gave the device a chance commercially only after years of lobbying from a few of its designers.
Despite a high price ($1,200) and narrow distribution channels, the company quickly sold more than 3,000 units. That, apparently, was enough to persuade the company of its broader potential.
Yamaha is now working on at least one new version, but the details are being guarded with a secrecy worthy of Apple. But with a low enough price, the product could appeal to mainstream consumers.
Like the iPod or iPhone, the Tenori-on is all about design. Whereas the former exudes California cool, the latter feels quintessentially Japanese.
In some ways it resembles Go, a strategic board game that's been popular in Japan and East Asia for centuries. The rules and appearance of Go appear simple, but scratch the surface just a bit and the depth of the game becomes clear.
Looking a bit like a high-tech Go board, the Tenori-on presents a Zen-like 16x16 grid of 256 identical LED buttons in a square-shaped magnesium frame that's easily held in the hands. At its simplest, press a button to produce a sound through the built-in speakers.
But along the sides are function buttons letting users make changes to volume, octave, tempo, transposition, note lengths, and loop point and speed.
Explore further
TIEM - from the University of Western Sydney

In minutes, musical novices can be creating surprisingly intricate soundscapes. Meanwhile the device displays arresting light patterns in response to the buttons pressed, making it work on stage just as easily as on the couch.
To many musicians and performers, the product is something like catnip. Those who can't access it pine for it in online forums.
"Once you understand how it works, it's one of the most self-explaining and intuitive instruments you can imagine," says conceptual audio artist Norman Fairbanks, creator of the first album to be made entirely with a Tenori-on.
"It really changed my way to make music," he said.
Fairbanks expects to still be using a Tenori-on in 10 years and likes being able to compose on it anywhere. (It has a jack for headphones, a memory card slot for saving compositions, and runs on AA batteries or an AC adapter.)
Made in Japan
The device is a collaboration between media artist Toshio Iwai and Yamaha designer Yu Nishibori. Iwai had made a video game for the handheld Nintendo DS called Electroplankton, a cult hit in which players tap glowing creatures to create electronic music.
The Tenori-on is in some ways a physical expansion of that basic idea.
But the instrument is more wide open, notes Perry R. Cook, a computer science professor at Princeton University who studies new instruments.
With its square array of identical buttons it "suggests a lot but has no obvious acoustical hooks, performance practice, or even a suggested use at all."
In this sense, he believes, it captures the mood of our "nearly post-computer age," just as the player piano captured the mood of the mechanical age.
Inevitably, software-only imitations have cropped up that attempt to mimic the Tenori-on. But "you can't beat this by software," says Fairbanks.
"The directness and the haptical feeling of the Tenori-on interface is essential."
Indeed one of the goals of Iwai and Yu was to create an instrument that was digital yet beautiful, establishing a physical relationship between the player and the instrument, as with a piano or guitar.
The Tenori-on is a first-generation device with plenty of room for improvement. For instance there are complaints in forums of poor MIDI implementation, particularly galling to some frustrated customers given the price.
Others complain that songs created with it all tend to have a similar sound.
There's also a bit of competition among music geeks from a somewhat similar device called the Monome which has a growing hacker culture surrounding it and is perhaps more open-ended than the Tenori-on. (The drawback being it requires more tinkering and probably lacks mainstream appeal.)
But among quirky new instruments, the Tenori-on stands an unusually good chance of survival.
With its depth, instant popularity and deep-pocketed backing, it could indeed evolve into an entirely new category.
E-mail to a friend