By Carl Pope
Special to CNN
Editor's note: Carl Pope has been executive director of the Sierra Club since 1992, working with the organization for nearly 30 years. He is co-author -- along with Paul Rauber -- of "Strategic Ignorance: Why the Bush Administration Is Recklessly Destroying a Century of Environmental Progress." The Sierra Club is a nonprofit advocacy group that supports environmental causes.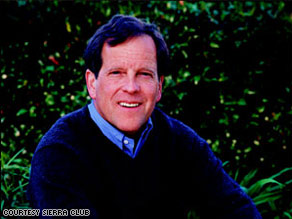 The Sierra Club's Carl Pope says the planet is at a tipping point when it comes to global warming.
(CNN) -- Global warming data is released constantly these days -- and all of it shows that our planet is in peril.
We know that pollution taints our air, water and land, and global warming threatens humans and wildlife in all corners of the globe.
Just this week, NASA and the National Oceanic and Atmospheric Administration reported that based on records dating back to 1880, 2008 is on track to be one of the 10 warmest years globally, even though it was the coolest year since the turn of the century.
We are at a tipping point when it comes to battling global warming -- the nine warmest years on record all occurred between 1998 and 2008. NASA also revealed this week that between "1.5 trillion and 2 trillion tons of ice in Greenland, Antarctica and Alaska have melted at an accelerating rate since 2003."
As CNN's "Planet in Peril" series pointed out, there are many environmental conflicts between growing populations and natural resources. And last week's U.N. climate talks in Poznan, Poland, demonstrated that some nations feel as if they must choose between facing the global economic crisis or the climate crisis.
Don't Miss
But talking about global warming does not have to be doom and gloom -- and it's not about choosing between the economy and the environment. The good news is that there are already proven ways to face these challenges -- and the solutions can help people around the world.
There is every reason to believe tackling climate change can help the American and global economies as well as the environment.
We are all facing the same peril -- during my last visit to India, I met with the country's minister of petroleum and natural gas, and we spoke about the challenges of weaning a country off oil.
During that visit, an Indian professor's research predicted that global warming would force the migration of 125 million residents of low-lying areas in India and Bangladesh because of flooding, salinization of soils and shrinking fresh water supplies.
But just as India is realizing these challenges, it also already is responding, including appointing a climate change coordinator to each village council (and there are hundreds of thousands of villages in India).
America should lead by example as well. On election night, President-elect Barack Obama acknowledged the environmental challenges facing the U.S. and the world by using the phrase, "a planet in peril." By taking actions at home, we can provide leadership on the international stage to both work with and be competitive with other nations as we invest in cleaner technologies.
We can lead by showing that clean energy is the solution to both global warming and our waning economy. Right now we are chained to dirty and outdated energy sources that contribute to global warming, including oil and coal and to nuclear power, which produces dangerous waste.These keep us dependent on foreign countries, or tied to power that pollutes our air and water and devastates communities (as in mountaintop removal coal mining).
Fixing our economy, transforming our energy future, slowing and ultimately reversing climate change and its consequences will require a clear agenda and aggressive timetable that will allow us to repower, refuel and rebuild America. Investing billions in clean energy will not only fight global warming, but it also will create millions of jobs.
We must reduce our dependence on oil by requiring better vehicle fuel economy, and by increasing the use of alternative fuels and innovative transportation technology such as plug-in hybrids. These measures also will save consumers money at the pump.
We should heavily invest in renewable energy sources like wind and solar power, and we must dramatically increase the energy efficiency of our homes and buildings -- which also would lower our electric bills.
Investing in clean energy technology and improving the efficiency of buildings, cars and transportation system will create whole new industries, and as these flourish, there will be new demand for professions and skills of all types, producing new jobs that will drive our economic recovery.
We need to tackle global climate change by establishing an economywide cap on carbon emissions and making sure that carbon permits are auctioned, not given away. Part of the money raised in that way should go to making sure vulnerable communities are protected, and part should go to further research on carbon-reducing technologies.
Our health, our livelihoods, our nations -- our whole planet -- is threatened by global warming. With a new president and Congress in place, we must act together quickly to avoid the worst effects of climate change -- in doing so we also will find economic benefits for people the world over.
The opinions expressed in this commentary are solely those of Carl Pope.
E-mail to a friend

All About Global Climate Change • Barack Obama • Energy Technology