By Brandon Griggs
CNN

ATLANTA, Georgia (CNN) -- Brown is going green.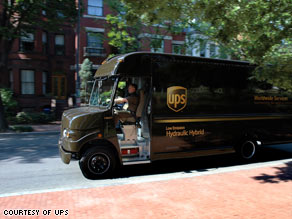 UPS will order delivery trucks powered by an eco-friendly hydraulic hybrid system.
Embracing technology developed by federal engineers, UPS will order a handful of new delivery trucks powered by a hydraulic hybrid system that saves fuel and cuts carbon emissions.
The Environmental Protection Agency holds many of the patents on the innovative technology, which was developed in an EPA fuel-emissions lab in Ann Arbor, Michigan, with the help of engineers from Eaton Corp., which designs hydraulics systems.
"This vehicle to my right may look like a brown package truck that you'd see every day in your neighborhood," said UPS Chief Operating Officer David Abney, standing beside a prototype of the hybrid truck at a news conference Monday. "But underneath the hood is a whole different kind of technology."
The trucks combine a diesel engine with a unique hydraulic propulsion system that replaces the conventional drivetrain and transmission. Using hydraulic pumps and storage tanks, the vehicle captures and stores energy the way a battery does on an electric hybrid car.
The motor converts pressure from the hydraulic fluid into rotating power for the wheels and uses stored energy to accelerate the vehicle, thereby recovering more than 70 percent of the energy normally wasted during braking.
This design, ideal for city driving's stops and starts, allows the diesel engine to be shut off when the vehicle is stopped or decelerating. In road testing a hydraulic hybrid truck in suburban Detroit, Michigan, the EPA found the vehicle used 40 to 50 percent less fuel than conventional diesel trucks while reducing carbon emissions by one third.
"At first the drivers thought the engine had stalled. It's so much quieter," said James Bryson, an EPA mechanical engineer who helped develop the hydraulic hybrid system at the agency's National Vehicle & Fuel Emissions Laboratory. "After they got used to it, they really liked it."
Abney said UPS's initial order is for seven hydraulic hybrid trucks. The first truck will be deployed in Minneapolis, Minnesota, during the first quarter of 2009, with the others to hit the road later in the year, he said.
UPS could potentially order more of the trucks if Eaton and Navistar can produce them in big enough numbers to make them affordable, Abney said.
Preliminary estimates suggest that hydraulic hybrid trucks would cost about $7,000 more than conventional diesel delivery trucks, said Chris Grundler, deputy director of the EPA's Office of Transportation and Air Quality. But because of lower fuel and brake-maintenance expenses, UPS could recoup that added cost within three years, he said.
Public-private partnerships like this one are not new for the EPA, Grundler said. But the agency's fuel-emissions research only benefits the environment if somebody deploys the resulting technology on a large scale, he said.
UPS is the first company to buy vehicles outfitted with this hydraulics technology, company officials said. To make the product economically viable over the long term, however, additional clients must be found. The U.S. Army and the U.S. Postal Service also have expressed interest, officials said.
"The market for this technology is truly global ... for trucks, buses and off-road vehicles of many shapes and sizes," said Alexander "Sandy" Cutler, CEO of Eaton Corp. Large SUVs also could potentially be manufactured with hydraulic hybrid systems, he said.
UPS, which is headquartered in suburban Atlanta, announced its purchase of the hybrid trucks along with officials from the EPA, Eaton Corp. and Navistar International Corp., which makes the trucks' chassis.
UPS has 90,000 vehicles in its fleet. By next year, some 2,100 of those will be alternative-fuel vehicles that run on electricity, compressed natural gas or other forms of energy, company officials said.
E-mail to a friend

All About Alternative Fuel Vehicles • U.S. Environmental Protection Agency