By Donald Bell

(CNET) -- Apple's fourth-generation iPod Nano returns to the original long, light, and slender formula that put the series on the map.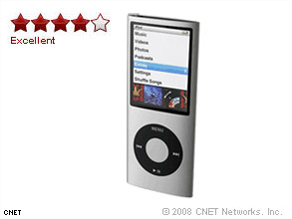 Offered in an attractive range of nine colors for both the 8GB iPod Nano ($149) and 16GB iPod Nano ($199) models, Apple has yet again raised the MP3 player bar.
Design: The Nano 4G feels impossibly light and thin, with a seamless metal construction that prevents it from snapping like a twig. A slightly curved design gives the Nano 4G the essence of an airplane wing, repeating the rounded design themes of Apple's iPhone 3G and second-generation iPod Touch.
Compared with the short, squarish design of last year's Nano, the long, tapered body of the fourth-generation Nano is more comfortable to grasp.
Curved glass now covers the iPod Nano's screen, giving it better resilience against scratches--in theory. The curve of the glass screen lies flush with the slight curve of the Nano's body, and although the glass is inherently glossy and reflective, we didn't notice a diminished viewing quality compared with last year's Nano.
The shape may have softened, but the dimensions of the fourth-generation Nano are nearly identical to the second-generation version, measuring 3.5 inches tall by 1.6 inches wide by 0.25 inch thick at its center--the thinnest iPod yet. The Nano's 2-inch screen size remains unchanged from the previous model, as well as its 1-inch wide scroll wheel control.
Headphone and dock connections are located on the bottom of the 4G Nano, and a sliding hold switch makes a reappearance on top of the player (another throwback to the second-generation design).
Don't Miss
Because Apple has flipped the Nano's screen on its side, menus and user interface get a dramatic overhaul from last year's model. Menu text size has increased slightly and album cover art takes up less real estate on the main menu.
In a bid to increase the accessibility of the Nano for people with impaired vision, Apple has included a font size setting on the fourth-generation Nano that makes its menus more legible--a nice feature even if you have 20/20 vision.
The Nano's music playback screen now presents full-screen album art by default, and Cover Flow view is zippier than before, offering alphabetization letters below the covers when you quickly flip through your collection.
Features: All of the features from last year's Nano have migrated to the fourth-generation model, including music, video, and podcast playback, as well as extras such as photos, calendar, games, alarms, stopwatch, contacts, notes, and clocks. Apple also added a few features that make the 4G Nano more compelling than its predecessors.
A new Genius feature lets you create an instant 25-song playlists based around the musical characteristics of a single song. The Genius feature is easy to use, and the results are fun, provided your music collection holds enough songs to make interesting connections.
To create a Genius playlist, find a song you like and hold the Nano's center button until you see a Start Genius menu option. You can save Genius playlists directly onto your Nano, and with automatic syncing enabled in iTunes you can also transfer them back to your computer. Oddly, the Nano's Genius feature won't work if haven't enabled Genius on your computer's iTunes software.
If you find iTunes' Genius feature too demanding on your computer's resources or too invasive of your privacy (the feature reports your listening habits to Apple), then you'll need to live without the feature on your iPod as well.
The fourth-generation iPod Nano also adds the same tilt-sensor found in the iPhone and iPod Touch, which allows for some interesting control tricks. Giving the iPod Nano a vigorous shake, for instance, puts the music player into shuffle mode. Causal shaking caused by running or exercising isn't enough to trigger the Nano's shuffle mode, and you can always deactivate the shake-to-shuffle feature under the iPod's setting menu or by engaging the hold switch.
The Nano's new tilt-sensor is also useful for activating the iPod's Cover Flow music view when turning the device on its side (a feature cribbed from the iPhone). The iPod Nano also flips the orientation of video playback depending on which direction you prefer to turn the screen. Lefties rejoice!
Unfortunately, we found it a little confusing to use the iPod's scroll wheel controls while holding the player sideways for video playback. You get accustomed to it, but it seems like an inelegant design solution coming from a interface-savvy company like Apple.
Apple makes it easier to make voice recordings on the fourth-generation iPod Nano by allowing microphone input through its headphone jack. You'll have to shell out for an Apple-approved headset, however, because our tests so far show that even iPhone-compatible headsets (Monster Beats, Etymotic HF2) won't work in this manner, while Apple's bundled iPhone headset worked like a charm.
The earbuds bundled with the fourth-generation iPod Nano are unchanged from previous models and do not include an inline microphone, either. Apple plans to begin sell compatible $29 and $79 headphones with in-line controls and voice recording microphones in October of this year.
An unprecedented feature found only on the fourth-generation Nano is the capability for vision-impaired users to hear menu, selection, and playback information read to them in a synthesized voice. You can enable this feature through iTunes, which generates the synthesized voice information and transfers it to your iPod Nano.
Performance: The fourth-generation iPod Nano's speed and usability is better than ever, but its sound quality and rated battery life haven't budged. Apple rates the battery of the fourth-generation iPod Nano at 24 hours of audio playback and 4 hours of video. Our CNET Labs team achieved an average of 23 hours of audio playback and 5.7 hours of video from the fourth-generation iPod Nano.
The test results aren't bad, but the numbers are down slightly from the 29 hours of audio and 6.7 hours of video our same tests pulled from the third-generation iPod Nano.
Apple doesn't seem motivated to meddle with the sound quality of the iPod or introduce any new sound-enhancement settings beyond its traditional slew of EQ presets. While the iPod Nano doesn't offer the sonic richness and advanced EQ settings of a Sony or Cowon MP3 player, it does sound balanced and should please most listeners.
Like all iPods, the fourth-generation Nano supports playback for MP3, AAC (including protected files), Audible, WAV, AIFF, and Apple Lossless. The Nano still doesn't support WMA music files, but you can always convert your WMA tracks to MP3 within Apple's iTunes software.
Video playback on the fourth-generation iPod Nano looks about as good as it gets on a relatively small 2-inch screen, although holding your iPod sideways takes some mental adjustment. A maximum resolution of 320x240 packed into a crisp 204ppi display makes taking in a full-length movie on your iPod Nano a legitimate (but silly) possibility.
Compared with the flat screen of the third-generation iPod Nano, the fourth-generation's rounded glass screen makes it difficult to eliminate glare, but images still look remarkably bright and clear.
Like most portable video players, the iPod has specific file requirements for video playback, so you may have to spend some time converting video on your computer before transferring it. Fortunately, the iPod Nano's video formats are widely known by purveyors of Internet video, which often arrives preformatted for the iPod.
Movies, TV shows, and video podcasts downloaded directly from Apple's iTunes store will always cooperate with your fourth-generation iPod Nano as well as videos formatted as H.264 or MPEG4 video in either MOV, MP4, or M4V file formats with a maximum resolution of 640x480.
The iTunes factor: Before you run off to buy a Nano for everyone on your holiday wish list, consider this caveat: whoever uses the Nano (or any iPod) will be required to install and use iTunes. No other piece of software has equaled iTunes in both praise and scorn from CNET's users. Some argue that iTunes is a top-notch media library tool and online music store, while others become infuriated by the software's insatiable demand for system resources and frequent updates.
Whatever side of the iTunes debate you take, know that iTunes 8 is a mandatory install for the fourth-generation iPod Nano. If you haven't used iTunes before or haven't upgraded the software in a while, we strongly recommend giving the new software a spin before committing to a new iPod.
Is it worth upgrading? If you passed on last year's iPod Nano and are still holding on to a first- or second-generation Nano (or possibly an iPod Mini), there's no better time to bite the bullet and get an upgrade. Given its competitive price, attractive range of colors, and improved user interface, Apple's fourth-generation of the iPod Nano is its best yet.
If you own one of last year's iPod Nanos, however, there's little reason to make the jump to the fourth generation. The iPod Nano 4G's Genius playlists, shake-to-shuffle, and improved voice recording compatibility are fun features to have, but they're not worth $150-$200.
That said, if you've filled up your 4GB third-generation Nano and want some extra room or if you need the additional accessibility features such as enlarged screen font and text-to-speech, the fourth-generation iPod Nano is an ideal choice.
E-mail to a friend

© 2009 CBS Interactive Inc. All rights reserved. CNET, CNET.com and the CNET logo are registered trademarks of CBS Interactive Inc. Used by permission.
All About Apple Inc. • Apple iPod nano