(CNN) -- Daniel Libeskind is one of the greatest architects of the modern era. Prior to his involvement in the design of New York's Freedom Tower, he was best known for designing the Jewish Museum in Berlin.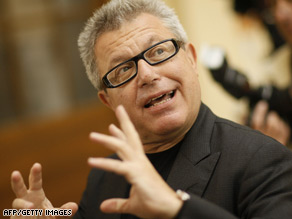 Daniel Libeskind first lectured students in architecture before going to to achieve worldwide acclaim as a designer.
It opened in 2001 to widespread acclaim, and is a perfect example of how architecture can connect with the soul. The same year Libeskind was awarded the prestigious Hiroshima Art Prize -- the first time it had been awarded to an architect.
Other notable buildings designed by Libeskind include the Imperial War Museum North in Manchester (2002) and the Extension to the Royal Ontario Museum, Canada, which opened in 2007.
Libeskind, who was born in Poland in 1946, and became a U.S. citizen in 1965.
His early life was dominated by music -- he was a virtuoso pianist -- and architecture only took center stage when he turned 16 years old, studying in New York then in Colchester, UK at the University of Essex.
He initially became a lecturer in architecture before swapping theory for practice with spectacular results. His buildings are some of the most recognizable and radical designs of the early 21st century.
E-mail to a friend