(CNN) -- Dr Joseph Adelegan is the Founder and the Executive Chairman of the Global Network for Environment and Economic Development Research -- a front-line African non-profit and non-governmental organization involved in environment and sustainable development issues.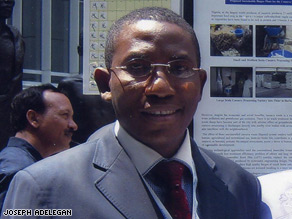 Dr. Joseph Akinkugbe Adelegan
In 2001, he pioneered the first Clean Development Mechanism (CDM) project in Nigeria dubbed "Cows to Kilowatts". The project is abating water pollution, improving human and ecosystem health, mitigating greenhouse gas emissions and creating cheap source of domestic energy with environmentally safe organic fertilizer from slaughterhouse waste.
The project was a winner of the prestigious 2005 Supporting Entrepreneurs for Environment and Development (SEED) International Awards.
A Chartered Civil and Structural Engineer and Ashoka Fellow, Dr Adelegan has served as Project Director for the World Bank assisted Lagos Metropolitan Development and Governance Project in Nigeria.
He was the 2006 Young Global Leader of the World Economic Forum and is a regular speaker at international conferences.
E-mail to a friend