(CNN) -- Peter Head is Director of urban design and development at Arup, the global design and business consulting firm.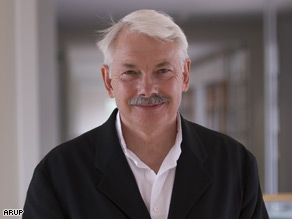 Peter Head, of global design and business consulting firm Arup, is a noted pioneer of sustainable development.
Head is in charge of planning and development for Dongtan, the eco-city planned for construction on Chongming Island near Shanghai. Head himself describes it as: "the world's largest sustainable development project."
It was while he was overseeing the construction of the Second Severn Crossing -- a bridge across the Bristol Channel linking England and Wales opened in 1996 -- that he first became interested in sustainable development.
In addition to his duties at Arup, Head is Chairman of the Steel Construction Institute -- a position which reflects his experience and expertise in bridge construction technology.
He is also a Commissioner on the London Sustainable Development Commission and chairs the Commission's subgroups on Transport and Sustainable Construction.
Unsurprisingly, Head has been the recipient of much praise and recognition during his career. Among some of his most impressive gongs are a Silver Medal awarded by the Royal Academy of Engineering for his outstanding contribution to British Industry, and an OBE for services to the industry for delivering projects.
E-mail to a friend