By Matthew Knight for CNN
LONDON, England (CNN) -- In May 2008, the International Union for Conservation of Nature (IUCN) published its Red List for birds.The latest research shows that one in eight bird species are at risk of extinction. Climate change, the report says, is firmly established as an accelerant to many of the factors contributing to loss in the number of species.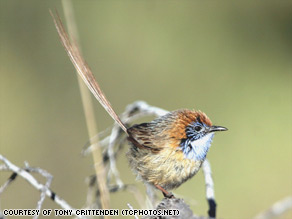 According to the IUCN Red List, the Mallee Emuwren is undergoing a rapid population decline.
There are now 1226 bird species at risk, eight of these have been uplisted to the 'critically endangered' -- the highest threat category.
Head of IUCN's Species Program, Jane Smart said that: "The latest update of the IUCN Red List shows that birds are under enormous pressure from climate change."
In Australia, the Mallee Emuwren's habitat is so fragmented that a single bush fire could prove catastrophic. The Floreana Mockingbird -- native to the Galapagos Islands -- population has dwindled to fewer than 60 in the past 40 years.
There is some good news though, with improvement in the situations of the Marquesan Imperial-pigeon and the Little Spotted Kiwi because of conservation efforts.
Overall 148 species have changed there Red List categories. Brazil has the most number of threatened species with 141, with three other South American countries -- Peru, Colombia and Ecuador -- all in the top ten countries which have the most threatened species. Elsewhere, Indonesia and China have 133 and 102 endangered bird populations respectively.
To combat the increasing threat, Birdlife International -- who have also published the Red List -- are launching a Preventing Extinctions Program, which it describes as 'the biggest and most wide-ranging bird conservation program the world has ever seen".
For more on the IUCN 2008 Red List for birds click here.
To see some of the other animals at risk go to the adjoining gallery. For full details see the full 2007 IUCN Red List.
About the IUCN: With more than 1,000 member organizations and over 10,000 experts, the International Union for Conservation of Nature (IUCN) helps develop conservation science and manages field projects all over the world. Each year they publish a list of the world's most endangered species.
E-mail to a friend

All About Global Climate Change • Endangered Species • Intergovernmental Panel on Climate Change