By Matthew Knight
for CNN





LONDON, England (CNN) -- David Crane is a man who isn't afraid of a challenge. When he took the helm at NRG Energy in the winter of 2003, the company was mired in Chapter 11 bankruptcy proceedings -- just one of many companies caught in the meltdown of the U.S. power generation industry, instigated by the scandalous collapse of Texan power giant Enron in 2001.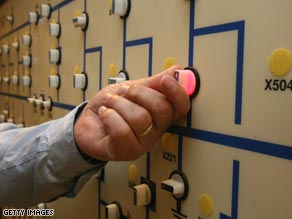 Simulated nuclear reactor controls at British Energy's Nuclear Power Academy, England.
But five years on, not only are NRG making healthy profits again, they're facing up to the next challenge -- leading the renaissance of nuclear power in the United States.
In September 2007, NRG submitted an application for a license to build a nuclear power plant -- the first in the U.S. in almost 30 years.
The proposed new units at the South Texas Project (STP) plant in Bay City, Texas will sit alongside two units already housed there.
"Like a lot of other power plants built in the 1970s, the site was originally planned to house multiple units to be built in sequence," Crane told CNN. "There is a considerable economic benefit of developing nuclear plants at existing sites."
NRG -- whose headquarters are in Princeton, New Jersey -- hope to bring the first new STP unit online by 2015. It's estimated that when both units are completed they will provide a further 2700 megawatts of power.
Nuclear power currently contributes just five percent to NRG's energy portfolio -- 1175 megawatts out of a total of 24,000 megawatts. Non-renewable sources -- natural gas, coal and oil -- create the lion's share, and a small but growing list of renewables -- a hydro-electric plant in Brazil and two wind farms under construction -- are also beginning to make an impact.
Since NRG led the way with their license application, the U.S. Nuclear Regulatory Commission has received a further six applications for nine more nuclear plants.
But Crane is pessimistic about how quickly new units will actually be built.
"The U.S. Government needs to focus on encouraging the build up of the supply chain in order to get 20 new power plants by 2025 or 30 by 2030. Currently, the infrastructure's just not in place for that. But we're moving as fast as we can," he said.
Crane has over a decade's worth of expertise in energy economics. Before he became President and CEO of NRG, he served as Senior Vice President of Lehman Brothers Global Power Group from 1996 to 2000 before moving to International Power, a UK-domiciled wholesale power generation company.
Whilst Crane thinks that the U.S. Government could be doing more to invigorate the sector, private money is beginning to flow into the industry. In March 2008, Nuclear Innovation North America (NINA) -- a company formed by NRG -- received $300 million worth of investment from Toshiba to help build new power plants, in return for a 12 percent equity stake.
Crane hopes the investment will help NRG realize their goal of expanding their portfolio of nuclear units across the country.
"There are attractive opportunities in the North East of the United States where coal is a non-starter," Crane told CNN. "And then there is California, which is interesting because Governor Schwartzenegger -- one of the leaders of the global warming movement in the U.S. -- is very pro-nuclear."
Under existing Californian law, construction of new nuclear plants is banned. But Crane envisages high-voltage transmission lines taking the power from a nuclear plant in a neighboring state and into California.
NRG's plans have received plenty of attention in the financial pages but what has been the response, if any, from the American public?
Crane says opinion polls have proved inconclusive. Support for nuclear power has ranged from just 30 percent to as much as 80 to 90 percent.
"People want to be reassured," Crane argues. "There is basically a lack of understanding as to how civil nuclear power plants do or do not contribute to nuclear proliferation. But essentially, people who care about the environment realize that nuclear is the only reliable baseload alternative to coal and is a zero carbon emitting source.
"Surprisingly, more criticism has come more from public interest groups who complain that the nuclear industry is the beneficiary of too much government largesse, in the shape of loan guarantees. Critics argue that this money should go more towards things like wind and solar. But the government is supporting those as well," he said.
And he's convinced that technology has advanced so much that the prospect of another disaster like Chernobyl or Three Mile Island is highly unlikely. "No one thinks that the U.S. is building nuclear plants the way the Soviets were. And even at Three Mile Island, no one was killed or seriously injured. And the area surrounding the plant hasn't turned into some sort of cancer alley."
NRG is a member of the Climate Action Partnership -- a group of business and environmental organizations which is pushing the U.S. Government to impose a carbon regulatory regime. It's an issue that Crane has spent a lot of time campaigning for.
He accepts that nuclear power has no chance of impacting global emissions now but says it is more ready for deployment than clean coal -- something NRG are also working hard to achieve. In the interim, David Crane believes an enormous amount can be accomplished with conservation and efficiency programs, and he's confident that nuclear power will have a big part to play in climate change mitigation in the future.
Uncertainties remain about how U.S. Government legislation is going to affect the trajectory of carbon emissions over the next 20 years, but Crane says: "By 2050, people in our industry are going to be making power in a very different way than we do now. But we need to innovate at a pace that this industry has never done. That's where we are trying to be a leader at NRG.
"To solve global warming we need both nuclear and clean coal. I just can't imagine anyone throwing their hands up and saying; 'forget nuclear'. That, to me, is defeatism of the worst kind."
E-mail to a friend

All About Nuclear Energy • Nuclear Proliferation • U.S. Nuclear Regulatory Commission