LONDON, England (CNN) -- Want to know how the choices you make in your everyday life might be affecting the planet? Well take a look at a new survey by the National Geographic Society compiled in partnership with the polling company Globescan.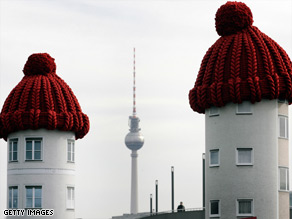 February 2008: Houses were crowned with woollen hats in Berlin as part of a campaign to spread awareness on the refurbishment of housing to save energy.
The Greendex survey interviewed 14,000 consumers in 14 different countries. National Geographic said they wanted to "give people a better idea of how consumers in different countries are doing in taking action to preserve our planet by tracking, reporting, and promoting environmentally sustainable consumption and citizen behavior."
Greendex measures consumer behavior in four broad areas. Housing accounts for 30 percent, transportation also 30 percent. Food consumption and goods account for 20 percent each.
It has produced some interesting results -- click here to read the full report --and gives a glimpse into the (un) green habits of people from all over the world.
It will be interesting to see how developing nations like India and China -- whose consumers do well in the survey -- fair in few years time. Although it is a small sample of the world population, the Greendex survey could grow into the biggest and most articulate investigation into individual environmental behavior.
To get a snapshot of the survey have a look at our gallery of Greendex winners and losers. If you want to test your own green credentials, go to the Greendex calculator.
E-mail to a friend