DOHA, Qatar (CNN) -- This year we thought we'd move the focus from the stage to the floor to give audience members another opportunity to participate in the discussion.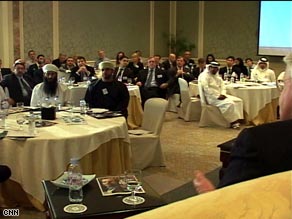 Audience members were encouraged to participate in the debate on the "Economics of Energy."
Straight after the debate, we set up a camera in the room and invited comment.
Remember, you can have your say by filing your own video via iReport. Or send us your comments by filling out the form on cnn.com/pv.
You can also click the "Sound Off" button at the bottom of this page.
We're not just interested in your views on the "Economics of Energy". We'd also like to know your thoughts on the other PV themes this year: "Design for Good" and "Climate Change."
Join the debate!
Here's what some audience members had to say after the "Economics of Energy" debate in Doha, Qatar.

Said Mubarak Al-Mohannadi, Director of Operations, Qatar Petroleum »
"I am not very much involved in the oil pricing, but what I know is a fact it has nothing to do with producers, or availability or volumes in the market. I think the volume is there, and the producers are doing their best, all they can do to supply the market. It is speculation and it is a lot of politics, I think."
Mithat Rende, Turkish Ambassador to Qatar

"Today the discussion was basically how to improve renewable energy and some of our friends also focused on renewable energy and introduced renewable energy as the only solution to the world energy problem. But here we have growing demand and limited resources and therefore we need more than renewable energy."
Prof. Mahmoud Khader, Qatar University

"Oil and gas are too precious materials to be used as fuels. As a chemist I really feel bad that you're burning oil and burning gas just to obtain energy -- you can do better with those materials. You can product petrochemicals, produce polymeric materials, fabrics, much more valuable things than just burning them to gain the energy. So hopefully there'll be some alternatives to oil and gas to keen the oil and gas for petrochemical industries."
Arve Moen, Senior legal counsel, Qatar Petroleum

"When energy here is so easily available, it's kind of a pleasure to fill up your car here because it's about one fourth of the cost of the UK and back home in Norway so it's very easy to use your car. But I think new housing and new technology to save energy is probably the way to go forward."
E-mail to a friend