By Dean Irvine
SINGAPORE (CNN) -- In the stylishly minimal surroundings of Singapore's Red Dot design museum, architect and innovative-thinker Cameron Sinclair opened the second Principal Voices debate of 2008 with a clear statement: "There is a lot of 'design for bad' out there."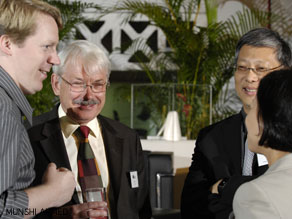 Panelists from the second debate on Design for Good chat after the discussion.
Chaired by Michael Holmes and Michael Elliott the discussions explored the challenges ahead to get rid of bad design as well as how design and architecture can be immensely positive forces.
The panelists tackled what is meant by "design for good," each from their own unique perspective.
"Design for good isn't just about social improvement, it's also about economic," said Sinclair, something echoed by panelist Aw Kah Peng, from the Economic Development Board of Singapore, who pointed out that for all design and building projects the "economics have to be right otherwise it's not sustainable."
Principal Voice Peter Head, who is playing a lead role in the exciting Chinese eco-cities projects, gave a warning, putting the importance of "good design" at the forefront of environmental sustainability.
When it comes to big projects, he said, "we are heading towards a cliff - we're damaging the fragile support system of our planet -- unless we change the direction of big scale design."
While sanguine about the scale of the task, Head believes that there's a "global movement that is moving ahead," and the mix of panelists and the vocations and expertise of members of the audience, including former Principal Voice, Simon S.C. Tay suggested he was right.
Integrated thinking between policy makers, designers and communities is something that Singapore can act as model for said Milton Tan of Design Singapore.
However he did not believe the wider market was ready for the younger open-source model of design that Sinclair has pioneered with his Open Architecture Network.
Yet the idea of sharing ideas and taking the ego out of architecture is one thing that all believed was essential. "Ideas are wanted by everyone, not just the few," said Aw.
For design lecturer Moses Wong, Director of the Temasek Design School, the architecture students of today are the ones who will move design to a new level, but it's the role of architects and design lecturers to move their expectations "beyond the material."
Sinclair touched upon just how far architecture goes to ordering society.
"Maybe it's when we become politicians we can change policies," he joked.
While the gathering of brains and talent is important, the creative heart is just as important as the head, according to Wong.
A city or town without a heart or soul, no matter how well designed, is not a complete design for good, was the message.
On Sinclair's open source designs, a picture of the family the house is being made for is pinned to the blueprints that builders work from, bringing the idea of heart and soul back into the project.
Community involvement in projects was one championed by Sinclair and Wong.
Making a project with local consultation and collaboration, not makes people feel attached to it, but empowers them -- which is fundamental in many disaster-affected areas that Sinclair has worked in.
"I feel for architects that have to approach a client or project and what they have to do is convince people it's the right thing to do. When you're inspiring, rather than convincing, everything changes."
On the issue of sustainability, Sinclair added some perspective. Let's not think that sustainable design is just a lifestyle choice or something that we have an option to do, he said, but "for 90 percent of the world's population sustainability is about survival."
From the audience the questions ranged from how we can make up for the bad designs of the past to how we actually implement the change that the panelists had suggested need to happen.
By the end of the two-hour session there were plenty of questions, and solutions offered. For the panelists and everyone, all left with plenty to build on.
We'll put more content from the debate on the website next week, including video highlights.
What's your point of view? Send us an email by filling out the form on the front page, or perhaps send us an iReport explaining your views. Join the debate
E-mail to a friend