SINGAPORE (CNN) -- Co-founder and executive director of Architecture for Humanity, Cameron Sinclair opened the second Principal Voices debate on Design for Good by outlining just what the term means to him, but also what it means to the communities his design solutions are aimed at.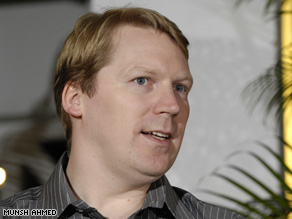 'When your focus is social change... why wouldn't you want to share that openly?'
Taking the ego out of architecture, Sinclair sees the sharing of transformative design ideas as being a moral responsibility of today's designers and architects.
"When your focus is social change and not financial change why wouldn't you want to share that openly?"
Below are some of Sinclair's thoughts on a number of topics that were discussed at the debate.
On shared design
"I always think of the design world like the medical world; we have people who are plastic surgeons, but we have a lot of people who are in the emergency room and a lot of our designers are in the emergency room dealing with the critical issues like post-disaster issues or systemic issues or poverty. When I was in college the idea of being a socially responsible architect was unheard of, it was almost taboo: 'We're trying to make jewels in the city', whereas a lot of us wanted to create cities that were jewels."
"When your focus is social change and not financial change why wouldn't you want to share that openly? Innovation only succeeds when it's shared. If you're a pioneer and you come up with something that can change the world and you turn round and say 'I'm not going to share this idea with anyone' then you only impact the few and not the many."
"But we're in a situation right now where we have to deal with a huge variety of issues. If you have a design idea that can improve the lives of a million people it's almost ethically irresponsible to keep to it yourself."
On sustainability
"It angers me when sustainability gets used as a buzz word. For 90 percent of the world, sustainability is a matter of survival. When you as a designer design something that burdens a community with maintenance and old world technology, basically failed developed world technology then you will crush that community way beyond bad design; you'll destroy the economics of that community and often the community socially is broken."
"You have to do this marriage between what is appropriate, learning from the local nature, but also can we leapfrog technologies, so we're not burdening people with outdated technologies. If we can come up with that, then it truly is sustainable."
On community involvement in design
"The community is not your client but your partner. You don't just put up some nice big rendering and tell them this is what you might have and do a Q&A. Doing workshops within the community and having them design these quiet moments of innovation within the larger developments, not only allows an empowerment of that community, but also ownership."
"Just because you put their name on the building doesn't mean they feel like they own it; but empower them in the process not only does it quicken the process, but you find you have the political will you can put through things you never even imagined."
"When you have strong common will, then projects go forward. There's nothing worse than selling or convincing, but if you're inspiring and including then it's a beautiful thing, and at the end of it you're part of the community."
E-mail to a friend