(CNN) -- Dr. Carl N. Hodges is turning the tide on sea-level rise and revolutionizing agriculture in the process.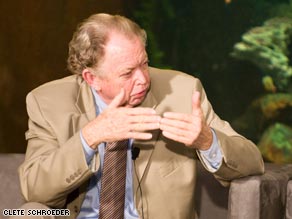 Founder and chairman of The Seawater Foundation, Carl Hodges at the Principal Voices Climate Change debate.
As the founder and chairman of The Seawater Foundation, Dr. Hodges is convinced that by following nature's example, it is possible to prevent climate change induced sea-level rises. With a background in atmospheric physics and mathematics, Dr. Hodges has developed an integrated agricultural and aquacultural farm in Africa -- with a second one in Mexico -- which uses seawater to green the desert.
Rather than using seawater for desalination -- which requires great energy consumption -- Dr. Hodges proposes that seawater can be drawn inland to irrigate seawater-tolerant crops and plants, creating arable land, food and employment in areas once thought too dry to sustain life.
Dr. Hodges' math shows that if seawater-irrigated agriculture developed at the same rate as traditional agriculture did from 1930 to 2003, sea-level rise could be stopped in less than 15 years.
Apart from his achievements with The Seawater Foundation, Dr. Hodges has worked in partnership with major corporations including The Coca-Cola Company, Monsanto and Walt Disney Imagineering. He is also a Fellow of the American Association for the Advancement of Science and a Fellow of the World Academy of Art and Science.
This celebrated scientist and innovator might just have the solution to two of the world's critical problems: sea-level rise and famine.
E-mail to a friend