By Jessica Daly
for CNN
Human-induced climate change is thought to be one of the greatest challenges facing mankind in the 21st Century. A change in temperature of only a couple of degrees has the potential to adversely impact economies, communities and ecosystems throughout the world.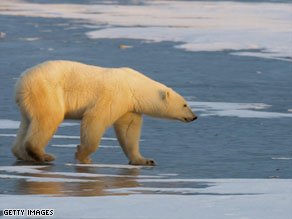 Climate change has impacted on the habitat of many animals, including the polar bear.
What is climate change?
Climate change refers to a change in the average surface temperature of the world over an extended period of time -- typically decades or longer -- due to a combination of natural variability and human activity.
The warming of the planet was deemed unequivocal by the Intergovernmental Panel on Climate Change (IPCC) -- the international scientific body which assesses and reports on existing climate change research -- in its Fourth Assessment Report released in November 2007.
The warming is caused by excessive greenhouse gas (GHG) emissions in the atmosphere.
Naturally occurring greenhouse gases include water vapor, carbon dioxide, oxygen and methane and these gases act like a blanket around the earth helping to keep the planet about 30 degrees warmer than it ordinarily would be.
However, human activity -- particularly the burning of fossil fuels and changes in land use -- has resulted in a thickening of the blanket as the concentration of greenhouse gases in the atmosphere increases.
The result, known as the "enhanced greenhouse effect", is a warming of the earth's surface and lower atmosphere. A rise in temperature is accompanied by changes in the climate, such as the duration of seasons, rainfall and more frequent extreme weather conditions.
It's getting hot in here...
According to the IPCC the world has warmed by an average of 0.74°C in the past 100 years as a result of human activity. The IPCC's Fourth Assessment Report predicts that if GHG emissions continue to rise at their current rate, this century will see a further 3°C rise in the average world temperature.
In the 12 years between 1995 and 2006, the world experienced 11 of the warmest years since records of global surface temperatures began in 1850.
What are the effects of climate change?
The natural systems on continents and in the oceans depend on a stable climate for survival and observed temperature increases are affecting these systems.
The sorts of changes that have already been observed in the past 150 years include increased frequency and severity of extreme weather; a change in the duration of seasons including the decline of winter in the Northern Hemisphere; and shifts in the natural world including changes in at least 420 physical processes and biological species or communities.
In addition to developing states, the IPCC has identified a number of regions of the world which will be particularly affected by climate change. These include the Arctic, Africa, small island states and largely populated delta areas such as the Ganges-Brahumputra megadelta in India.
Fact box
Top 10 carbon emitting countries:

1.China
2.United States
3.European Union
4.Russia
5.India
6.Japan
7.Canada
8.South Korea
9.Iran
10.Mexico

So who are the world's biggest polluters?

As carbon dioxide (CO2) is the largest contributing gas to the greenhouse effect, the biggest polluters are the countries with the most carbon emissions.

The most recent data submitted to the United Nations Framework Convention on Climate Change (UNFCCC) indicates that China has overtaken the United States as the world's top CO2 emitting country. China now contributes around 17 percent of global CO2 emissions, the United States contributes around 16 percent and the 27 states of the European Union contribute a further 12 percent of global carbon emissions.

On a per capita basis, the United States is the biggest CO2 emitter with 19.2 tons of CO2 emitted each year per person. Despite contributing only 1.1 percent to global CO2 emissions, Australia is the second highest per capita emitter with 18.9 tons of CO2 per person and Canada is third highest with 17.2 tons per person.

If you don't like the heat...

The UNFCCC was established in 1992 as a basis for global action to prevent climate change. According to the UNFCCC, the ultimate objective is to "stabilize greenhouse gas concentrations in the atmosphere at a level that will prevent dangerous interference with the climate system." Although the UNFCCC is yet to establish what constitutes a "dangerous" concentration of greenhouse gases, member states pressed ahead with action by establishing the Kyoto Protocol in 1997.

The Kyoto Protocol sets binding emissions targets for 37 industrialized countries, which includes the countries of the European Union and Japan. The targets amount to a five percent reduction in greenhouse gas emissions against 1990 levels over the period of 2008-2012.

The protocol places a heavier burden on developed nations that have been principally responsible for the current high level of GHG emissions as a result of 150 years of industrialization.

With China and India emerging as the new industrial powerhouses of the 21st Century, one of the foremost criticisms of the Kyoto Protocol is that it does not commit developing countries to reducing their emissions.

Talks are already underway to negotiate a new post-Kyoto international framework which will likely go further with emissions reductions in order to stave off the most serious impacts of climate change.

Low carbon technology -- the way forward?

Technology is central in helping to mitigate climate change. A landmark 2006 review by the UK's Head of Government Economic Services and Advisor to the Government on the economics of climate change and development, Sir Nicholas Stern, indicated that the market for low carbon technologies could be as much as $500 billion per year by 2050.

While still in its infancy, research and development into new climate-friendly technologies such as biofuels, carbon capture and storage, hydrogen and fuel cells and power-storage systems hold great promise for transitioning to a low carbon economy.

There are currently some barriers to a wider take up of cleaner technology -- including the initial cost of research, the need for greater investment in infrastructure necessary for new energy technologies and a lack of innovative public policy.

Reducing your carbon footprint

With GHG emissions due to peak in the next 10 to 15 years, individuals are being encouraged to consider their own impact on the environment and adopt measures to reduce their carbon footprint.

From simple things -- such as signing up for green electricity, turning down central heating by a couple of degrees and turning off unused electrical appliances at the wall -- to measures that require a little investment -- such as fitting energy-saving light bulbs, recycling gray water or installing wall insulation -- there are plenty of practical ways to reduce our contribution to greenhouse gas emissions.

E-mail to a friend