By Jessica Daly
For CNN
LONDON, England (CNN) -- The site has been secured, the tents pitched, banners raised and, most importantly, compost loos installed; there is little to do now but wait for thousands of campers to arrive for one of Britain's biggest environmental protests this year.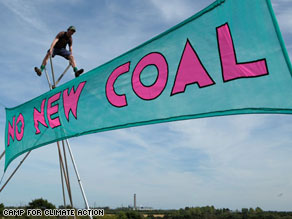 Climate campers erect their banners at Kingsnorth in Kent, United Kindom.
Last year, the Camp for Climate Action had the new Heathrow airport runway in its sights. This year they're targeting the proposed site of Britain's newest power station in its namesake village of Kingsnorth in England's Kent district.
The Camp for Climate Action officially begins on Sunday August 3 and is tipped to reach its climax on August 9 when thousands of protestors will attempt to breach the site's perimeter by any means possible -- by land, sea and air.
They've chosen Kingsnorth because German power company E.ON hopes to build Britain's first coal-fired power station on the site in more than 30 years.
Climate camper and activist Kevin Smith told CNN that they're there to highlight "the madness of trying to maintain endless economic growth in a world with finite resources."
Coal-fired power sites are notorious for producing large volumes of greenhouse gas emissions, and while a final decision on the £1 billion ($1.98 billion) project isn't expected until later this year, the climate protesters are determined to shut the operation down.
Kevin Smith: "Coal is basically the dirtiest and most inefficient fossil fuel and with the rising oil prices having an effect on gas prices, there is a clear financial incentive for businesses to switch back to coal for generating power."
"It's just an insanity that flies in the face of all we know about climate change."
The camp is expecting up to 3000 people -- up on the 1000 who attended last year's Camp for Climate Action at Heathrow airport -- and they're ready for action, promising that shutting down the power station will be a defining moment in the global struggle against climate change.
E.ON's spokesperson Emily Highmore is not so sure; she told CNN that while the company supports the right to legal protest, shutting down the power site will not fix the problem of global warming.
"The United Kingdom is facing many challenges in terms of energy and we have a responsibility to our customers to keep prices as low as we can while trying to get the [environmental] balance right," she said.
"While we're investing in renewable energy options, we can't put all our eggs in one basket... it's too simple to just focus on carbon emissions."
While a skeleton staff is the weekend norm at the power plant, E.ON isn't taking any chances with staff safety, having successfully applied to the High Court for an injunction to prevent protesters from trespassing on their site. This injunction was last week extended to include the nearby jetty, but the campers are undeterred.
"We'll be practicing civil disobedience," Smith said.
"We know what we are planning on doing is illegal, so the injunction won't make a difference."
The decision to reinforce the local police presence with officers from around the UK ahead of the day of action seems wise if the recent Camp for Climate Action in Australia is any indication.
In the New South Wales town of Newcastle, 57 people were arrested as a 1000-strong protest shut down the Carrington coal terminal for a full day earlier this month.
E-mail to a friend