By Dean Irvine
CNN





(CNN) -- Tackling climate change and its consequences is the challenge of our generation.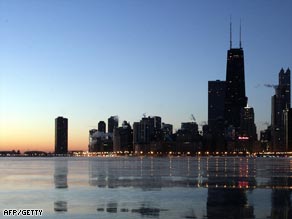 Principal Voices final debate of 2008 will take place in Chicago on September 29.
As the world moves beyond the debate around climate change's existence to what its effect will be, our Climate Change Principal Voices will gather in Chicago on September 29 to discuss what we can do to protect our environment and our future.
Consensus might be growing that the planet is in a perilous state, but can a consensus be reached in how to deal with the growing threats posed by climate change?
It's a big question, but one that our Principal Voices and fellow panelists are well equipped to tackle.
Bringing his considerable expertise to the event will be Dr. Rajendra Pachauri, 2007 Nobel Laureate and chair of the UN's Intergovernmental Panel on Climate Change.
The Indian scientist has described the lack of action by developed countries on climate change as "tragic" and believes that better understanding of the position of developed and developing countries as essential to creating a successful replacement to the Kyoto Protocol.
Many of you agree with Dr. Pachauri that a more enlightened view of the developing versus developed country situation is needed, but can all countries rally around a single goal?
What should be prioritized in Kyoto's replacement, which is set to be finalized in Copenhagen next year? Can carbon emission targets for 2050 be achievable while national interests take priority?
From the fractious nature of international agreement to local solutions, is there one issue you think needs to be addressed to steer us towards a more sustainable future?
You can add your voice to the debate by sending in your questions to be answered by Dr. Pachauri and fellow Principal Voices, Dr. Carl Hodges and Alexandra Cousteau.
As innovation continues to promote renewable energies, solutions to new challenges in agriculture and coping with climate change's effects on communities and the environment are increasingly forthcoming.
Principal Voice Dr. Carl Hodges works directly in that area with the Seawater Foundation, dealing with the twin challenges of sea-level rise and creating new forms of sustainable agriculture.
His previous work with major corporations also puts him in a good position to view the ways in which climate change is being tackled by businesses and at a grassroots level.
Is this the kind of innovative thinking and practical application that more of us should be actively supporting and encouraging?
While communities across the world are facing up to the consequences of climate change, it is the most vulnerable among us and the delicately balanced ecosystems around the world that could suffer the most.
Protecting marine habitats and putting the global problem of water scarcity at the top of the agenda will be environmental advocate and Principal Voice Alexandra Cousteau, the grand-daughter of legendary French explorer Jacques Cousteau.
According to the U.N. water scarcity is already a fact of life for 700 million people, a number that could rise to 3 billion by 2025, almost one third of the world's projected population.
If developing countries and cities are facing up to the brunt of the effects of climate change, cities in the developed world are not immune.
Many may be insulated from some of the more directly devastating effects of climate change, but they certainly have a large role in its creation.
Joining the panelists will be the city of Chicago's Environmental Commissioner, Suzanne Malec-McKenna who has the responsibility of addressing big issues in the big city.
Put your questions to the panelists using the form on our front page or the "Sound Off" box at the bottom of this page.

CNN's Jim Clancy and Stephanie Mehta, Global Editor of FORTUNE magazine will chair the debate in Chicago put the best of your questions to the panel.
We'll have reports, videos and audience reaction here at Principal Voices straight after the debate. So have your say and make sure the Windy City is the site of constructive and enlightening debate and not just more hot air.
E-mail to a friend

All About Global Climate Change