By Mike Steere
For CNN






LONDON, England (CNN) -- Think it, find it, match it, mash it!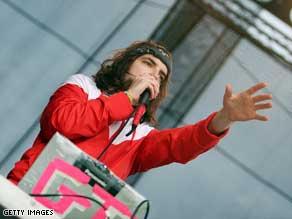 Mash-up master: Gregg Gillis, aka 'Girl Talk,' performs his mashed music at Chicago's Lollapalooza music festival.
That's the process being adopted by an increasing number of so-called "creative" artists, who are rapidly expanding "mash-up" culture and making the controversial phenomenon massively popular.
"Mash-ups" refer simply to the end result of bringing together two or more different creations or applications that were not originally intended to work together, and the concept is a firm part of the Web 2.0 world.
More mash-ups are being created than ever before, with movies, music, computer programs and applications, news content, and even the mighty Google being mashed.
The result of all this has been some very humorous and extremely useful creations.
Mash-ups date back as far as the 1960s with the mixing and sampling of different songs, and like those creations, the first computer-based mash-ups were largely music or image-based.
Some of the creators, like "Freelance Hellraiser," achieved international fame with mash-ups like "Smells like Booty" -- a mix of "Bootylicious" by Destiny's Child and Nirvana's "Smells Like Teen Spirit."
More recently Gregg Gillis -- aka "Girl Talk" -- has released four LPs of his mash-ups. Gillis often uses more than a dozen unauthorized samples from different songs to create a new song. His music has been consequently described by The New York Times Magazine as "a lawsuit waiting to happen."
Meanwhile, in a more legitimate approach, established artists Linkin Park and Jay-Z produced a number of mash-ups on their collaborative album, "Collision Course."
A recent video mash-up has comically compared Hillary Clinton with Reese Witherspoon's character Tracy Flick in the 1999 movie "Election," while another time-blessed individual has used Photoshop to turn the faces of celebrities into zombies.
In a separate sphere altogether, mash-up culture is also booming with software and application mixing. Take the extensive virtual globe program Google Earth, for example. Are mashed-up songs and videos creative or theft?
The Wii remote control and the Wii fit board have been coded by mashers to be used with Google Earth, enabling you to use it as a flight simulator so you can "fly" over the globe using the Nintendo controls.
Among the plethora of other applications used have been speech and gesture input versions created by mashers.
There is also a Web site that showcases the best of the Web's mash ups and gives out a daily and monthly award. Past winners include "twitzu" where users can send out invites to friends and they can RSVP via twitter. "Typobuddy" users can find misspelled eBay auctions and Craiglist items to get the best deal.
On a more practical note, the Chicago Police Department uses a system called "Clearmap," a mash-up web application that integrates the department's reported crime database with Google Maps. This helps the department inform citizens about areas where the crime rate is high.
Due to the popularity of mashing and its potential benefits, many major companies are promoting the mixing of software.
Google and Yahoo both have mash-up editors where users can mash what they will. Just last month the Mozilla Lab announced Ubiquity, an experiment in using natural language to invoke Web services.
Ubiquity is essentially an addition on the Firefox browser that allows a user to type in commands. Ubiquity then figures out what services the user is after and brings it to them -- saving the hassle of going to numerous sites.
Not surprisingly, major companies predict mashing has a massive future.
Mark Selby, vice-president of multimedia at mobile technology giant Nokia, said, "We predict that up to a quarter of the entertainment being consumed in five years will be what we call "circular."
"The trends we are seeing show us that people will have a genuine desire not only to create and share their own content, but also to remix it, mash it up and pass it on within their peer groups -- a form of collaborative social media," Selby said.
But all of this excitement isn't without controversy. Much of the content that is mashed is done so illegally.
The largest support for mash-up culture comes from the Free Culture movement and organizations such as the Creative Commons.
Board member of freeculture.org and founder of the Harvard Free Culture group, Elizabeth Stark, told CNN the Free Culture movement believes there is an "element of freedom of speech" in allowing mashing.
"Mashing up is a good thing... people are being creative and expanding peoples' works. Mashing-up where people can further edit the code is a great thing," she said.
Stark said online encyclopedia Wikipedia represents what can be achieved when people bring their ideas, creations and knowledge together.
However, California-based author Andrew Keen, who criticizes some of the Free Culture ideas in his book, "Cult of the Amateur," told CNN he had major issues with supporters of mash-up culture.
"They are creating the illusion that consumers have the right to free content when they don't. The notion of free culture is childishly utopian," he said.
Keen, who said he was "troubled" by YouTube, felt there were some misconceptions about popular images and music.
"There seems to be an idea that the most successful images or sounds are publicly owned -- but they're not. The kids coming online now just assume they have the right to this."
Stark defends mashing, saying it has numerous practical uses and encourages creativity. She said current law is "out of step with general practice at the moment," and needs to be looked at individually for issues with music, video, and images.
Stark poses the question of whether the use of a handful of notes from a song warrants a lawsuit. But she said she does not support the theft of material.
"Free culture is not a 'let's not pay for it' culture," she said.
E-mail to a friend