By Matthew Knight
For CNN
LONDON, England (CNN) -- Micro wind turbines are beginning to pop up all over our urban and rural landscapes. But is it worth investing your hard-earned cash in your very own wind machine? In short, it depends. Take a look at our quick guide to see if "small wind" could help you reduce your energy bills and your carbon footprint.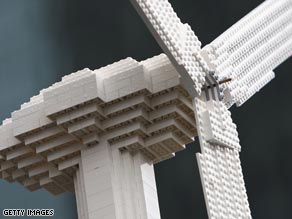 In the long-term a micro wind turbine could be a very sound investment.
What is available?
There are plenty of small wind turbines on the market. Most are the more traditional horizontal axis -- which have two or three blades. But some are vertical-axis which look a bit like the beaters on a food mixer. Micro turbines can be as small as 100 to 500 watts and can be mounted on the side of a building. Larger models -- 2.5 kilowatts to 50 kilowatts -- need to be mast-mounted.
How much do they cost?
Prices vary a lot. One kilowatt models range from $1500 to $3000. More powerful models will cost considerably more. A six kilowatt machine will set you back $45,000 and 15 kilowatts a hefty $70,000. Prices generally include installation but other essential kit -- you will need a battery and an inverter if you are off grid --may not be included. With regular maintenance, turbines can last over 20 years.
Are subsidies available?
Yes. In many countries government grants are often available. For example, in the UK the Low Carbon Buildings Program offers funding up to £2,500 on domestic renewable energy ventures.
Also, prices are falling all the time as more people invest in small wind systems. Alex Murley, Small Systems Manager at the British Wind Energy Association (BWEA) told CNN: "The domestic wind turbine market in the UK grew by 80 percent from 2006 to 2007". Improving technology will also drive costs down.
Is it worth getting one?
The most important thing to remember is location. If you are going to realize long-term cost and carbon savings then this has to be your priority. Your local meteorological bureau can give you data on average wind speeds in your area. If you want to check the wind speeds in a specific location an anemometer will tell you all you need to know.
"At the right locations," say the BWEA, "small wind systems can produce electricity cheaper than the grid and payback their embedded carbon within months."
Rural settings generally represent the best opportunities for micro turbines. A recent report published in the UK by the Carbon Trust concluded that turbines in rural locations were four times more efficient than their urban cousins.
The problem with installing micro turbines in built-up areas is two-fold. The first is that buildings can often disrupt wind flow and render a poorly appointed turbine utterly useless.
Secondly, smaller one kilowatt models -- which are often the only option for many urban households -- just can't deliver the requisite cost and energy savings at the moment.
Lynda Garman, technical sales executive at Proven Energy, a leading UK supplier of small wind turbines told CNN: "The swept area [the area through which the blades turn] is very important to the function of a wind turbine. If you put a small turbine in a turbulent area it will not work efficiently."
An ongoing UK study, The Warwick Microwind Trial Project appears to cast further doubt over the usefulness of turbines in urban environments. The fourth interim report published in August 2008 stated: "Great care should be taken in selecting suitable sites for building-mounted turbines" and "more work is required to create a robust method for predicting average wind speeds in urban locations."
But not all urban sites should be written off. "We need to be wary of generalizations," said Alex Murley. "If you put a turbine on a high-rise building above all the wind turbulence it will perform very well."
What sort of energy savings can I expect to make on a domestic turbine?
In short, the bigger the turbine, the greater the rewards.
According to Alex Murley, a typical one kilowatt model is likely to produce between 10 and 20 percent of your total annual electricity requirements.
In the UK, an average household -- according to the energy industry -- uses 3,300 kilowatt hours of electricity annually at a cost of £500. So a one kilowatt machine will save you between £50 and £100 a year. If the turbine costs £1500 to buy, then at current energy prices payback will between 15 and 30 years.
Based on an average wind speeds of 6.5 meters per second, the BWEA have calculated that a £22,000 Proven Energy six kilowatt model can produce 12,500 kilowatt hours. For many households this would amount to a surplus of electricity which is where the real benefits kick in.
In many countries surplus energy can be sold back to the grid using what are called Renewable Energy Certificates or Green Tags. Rates of return vary but in the UK, at current energy prices, they could help reduce your payback period to around ten years.
The figures for a larger Gaia-Wind 11 kilowatt turbine -- which has been installed at a dairy farm in the Scottish Borders -- are even more impressive. Initial costs total around £35,000 ($65,000) but at an average wind speed of 6.5 meters per second the turbine will produce around 40,000 kilowatt hours of energy per year. Factoring in selling surplus, the BWEA calculate that the payback time could be as little as five years.
It's worth remembering that even small changes in average wind speed can make a huge difference to payback periods.
Stephen Andrews, a Senior Technical Project worker at the UK's Center for Sustainable Energy told CNN:
"For urban areas there is still a large question mark. The wind resource is less than expected. But as soon as you move into a rural area, and as long as you have a good resource then small-scale wind turbines -- up to 15 kilowatts -- are very good. They can have a payback of much less than 10 years."
What are the carbon savings?
Repaying the carbon cost of a turbine varies. "It can take six months to two years depending on the size of the machine and the size of the wind," Proven Energy's Lynda Garman said.
Reducing your carbon footprint will depend on where you live. But BWEA's Alex Murley said: "In the UK market, 172 grams of carbon is saved for every kilowatt hour produced by a wind turbine."
Any other considerations?
Planning permission is required for most domestic turbines. Erecting a mast-mounted turbine in your back garden will not make you flavor of the month with your neighbors or the local planning department. Larger models can also be quite noisy. Regular servicing is crucial to a turbine's effectiveness. Also, battery storage systems do not last as long as a turbine and will need to be replaced, which is costly.
Final word:
You might be salving your conscience rather than saving the planet if you buy a small one kilowatt turbine and attach it to the side of your house. Their economic worth is very much open to question.
But it is early days. "As the cost of energy goes up and up and technology costs come down, even the smaller micro turbines will be very interesting opportunities to save money and carbon," said the BWEA's Alex Murley.
Whilst bigger turbines are expensive they can, in the right location, make a real difference and in the long-term could be a extremely astute financial and environmental investment.
E-mail to a friend

All About Global Climate Change