By Matthew Knight
For CNN





LONDON, England (CNN) -- It is being billed as the ultimate book about the world and it is something of a landmark in its own right. "Earth" -- the biggest atlas ever to be published -- promises to be a luxurious benchmark in cartography.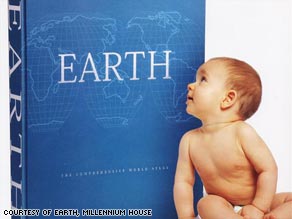 "Earth" is the largest atlas ever produced and weighs over 30 kilos.
Created by Millennium House, "Earth" -- complete with a clam shell case -- measures 610 x 469 millimeters and weighs in at over 30 kilos.
The price is pretty hefty too. The leather bound, gilt-edged book will set you back around $3500.
Its existence owns much, if not all, to the perseverance of Australian businessman Gordon Cheers who has been dreaming of creating such a book for over 20 years.
Cheers, who has spent much of his working life at some of the world's major publishing houses, couldn't convince his various employers to take the project on. Penguin said no. So did Random House.
Undeterred, Cheers decided to start his own company, Millennium House, which produces a wide range of high quality reference books.
It has taken a team of over 100 photographers, cartographers, geographers and oceanographers eight months to bring the 576 page tome together.
"You really don't get a sense of the size of this book until you see it. It has pushed the skills of all the people involved in the project," Cheers told CNN.
During production several cartographers' computers crashed and had to be upgraded because of the maps were so large and so detailed.
But it all appears to be worth it. "Earth" is a lavish affair with 154 maps and over 800 photographs. All of which are complemented by extensive descriptions of every country's geography, history and culture.
The book also includes four monster-sized gatefolds which, unfurled, measure six x four feet (1.82 x 1.21 meters) and reveal pinpoint sharp satellite images including shots of the earth and sky at night.
UK map publisher, Global Mapping was tasked with bringing all the data together making sure every detail was to a consistent specification.
"The overall content, including the maps, text and photographs is very much more detailed than any other atlas ever produced," said Alan Smith, Managing Director of Global Mapping.
It appears that the only aspect of the project that isn't going to break new ground is the print run, which will create just 3000 copies.
"I wanted to produce a book that would be so rare, so cherished and so well received that 500 years from now it will be in museums and in private collections," Cheers explained. "If it is respected, 500 years from now, this book will still be around like, for example, the Gutenberg Bible."
Respect will or will not come with time, but its rarity seems ensured. Millennium House has created a certificate of authenticity for "Earth," which amongst other things promises to destroy the printing plates once all 3000 copies have been published.
Along with 2000 standard blue copies, a further 1000 "Gold Earth" editions will be available. It's hoped that this deluxe version, with its gold leather, gold gilding and gold plated corners will attract corporate buyers and wealthy individuals. At approaching $5500, it's not going to attract many budding geography students.
Still, Cheers says that there will be a concise version of the atlas which will be much more affordable and portable.
In light of the current financial crisis, Cheers concedes that it's a tricky time to bring out a such an expensive book, but interest in the venture has been high and he is confident that it will sell.
Currently overseeing the European launch of "Earth" at the Frankfurt Book Fair, Cheers is hoping to tempt more booksellers and enthusiasts into buying his prestigious and unique creation.

He says he has tried to produce the best maps you could ever buy and describes the atlas as "the pinnacle of my publishing career."
"A lot of people are getting their maps from the Internet now. This will probably be the last big atlas that will ever be published," he said. "The beauty of an atlas is that it helps you dream."
E-mail to a friend

All About Global Climate Change • Nature and the Environment