By Mark Tutton
For CNN






LONDON, England (CNN) -- Work stations with a built-in treadmill and portable meeting rooms are just some of the developments that may become commonplace in the offices of the future.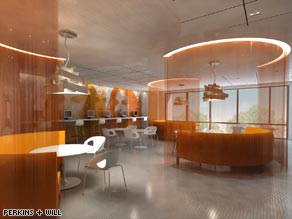 Offices of the future may include more informal team areas, like this one designed by Perkins + Will.
Workplace technology has changed dramatically in recent years and the offices we work in are finally set to catch up. The advent of laptops, wi-fi and BlackBerries means that high-tech workers are no longer tethered to their desks, and the office of the future will be designed to let workers roam.
Dutch designer Michiel van der Kley has come up with Globus, a stylish spherical "podule" that looks like a piece of art, but is actually a mobile work station. Open it up, take a seat, switch on your laptop and you're good to go. If you need to see a colleague you can take your laptop with you and talk shop at a ScooterDesk, an ultra-mobile mini work station by Belgian design firm Utilia.

See what the offices of tomorrow will look like »
Another Belgian company, Living Tomorrow, predicts that as we become increasingly able to work from home, workplaces will spend more time unoccupied. It says flexibility will be the key to filling unused space, which means that as well as mobile work stations, we'll be seeing mobile meeting rooms.
The Center for Building Performance and Diagnostics (CBPD) at Carnegie Mellon University in Pittsburgh has built the Robert L. Preger Intelligent Workplace -- a functioning workplace that is also a 'living laboratory' for researching office design.
In an effort to increase energy efficiency, much of the heat in the Intelligent Workplace comes from solar thermal energy and recaptured heat from generators.
Daylight sensors and occupancy sensors mean lighting isn't used when it's not needed, but workers are also given a huge amount of control over their own environment, regulating air temperature and flow, and lighting levels and direction, from their own work station.
The point of all this, says the CBPD, is to show you can improve quality of life in the workplace while reducing greenhouse gas emissions.
As businesses are coming to realize that the best ideas are often generated in casual conversation, designers such as Perkins and Will are incorporating informal team areas into office environments, to encourage chance encounters and impromptu meetings.

Obesity has become a hot topic as we lead increasingly sedentary lives. One solution, envisaged by Dr James Levine of the Mayo Clinic in Minneapolis, is for us to burn more calories at work.
With that in mind, his team has developed a treadmill desk that lets you walk while you work, and it has already been tested in real workplaces. So you'll soon be able to work off that lunch-time blowout while you work on your big presentation.
E-mail to a friend