By Mark Tutton
For CNN





LONDON, England (CNN) -- Is that your dress ringing? It could be, if you're wearing an M-Dress -- a silk garment that doubles as a mobile phone. Produced by UK firm CuteCircuit, the M-Dress works with a standard SIM card. When the dress rings, you raise your hand to your head to answer the call.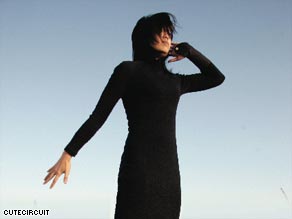 Put a SIM card into CuteCircuit's M-Dress and it functions as a mobile phone.
This futuristic fusion of fashion and technology is becoming more common as clothes designers are increasingly incorporating electronics into their garments.
Jane McCann, Director of Smart Clothes and Wearable Technology at the University of Wales, says the clothing and electronics industries are collaborating in an unprecedented way -- what she describes as "a new industrial revolution."
McCann predicts that in the next 10 years clothes will have all kinds of in-built functionality. "A garment might have devices on it to help you find your way somewhere, or to tell you how fit you are. It could tell you where someone is to help you meet them, or tell you what's on at a museum or club," she told CNN.
She says that while the sports and fitness industries have led the way in wearable technology, producing shoes with built-in pedometers and active wear with integral iPod controls, the fashion industry is currently lagging behind.

View image gallery of futuristic fashions »
"Wearable technology is coming through into useful everyday clothing more than it is on the catwalk. The catwalk still treats wearable tech as flashing earrings or sensational things," McCann says.
While high fashion may be slow to adopt practical technology, designers have been quick to embrace technology in order to create dazzling new styles. Hussein Chalayan, twice British Designer of the Year, has used his shows to experiment with dresses that glow with built-in LEDs or emit spectacular red lasers.
Others, like Angel Chang, have produced beautiful designs using thermochromic inks that change color when you touch or breathe them, while Montreal's XS Labs has used a shape-memory alloy called Nitinol to produce extraordinary dresses that change shape while you wear them.
As well as functionality, McCann predicts that mass customization will emerge as a major trend in clothing. "You can already go into a sizing booth and get measurements of your size and shape.
Perhaps you could store that information on a card and that could be used to customize clothing.
"In theory, if you've got technology that's cutting out garments one at a time it could produce clothes informed by your own size requirements," she says.

But mass customization could extend beyond getting the perfect fit -- you might also be able to customize the technology in your clothes.
McCann explains, "You might want built-in controls for an MP3 player but I might like heart-beat monitoring. I'd like mine to have a digital print of the sleeve but my friend wants a picture of her boyfriend on the back. Some of that could happen in the 10 years."
E-mail to a friend