By Marsha Walton
CNN

BOULDER, Colorado (CNN) -- It is a problem that scientists and engineers have been grappling with since the aftermath of the September 11, 2001, terrorist attacks: How can emergency responders' communication tools be improved?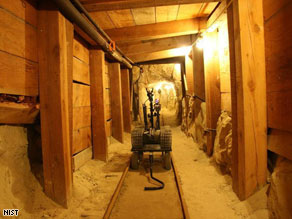 This mine shaft allows researchers to test the strength of emergency underground radio signals.
At ground zero in New York, first responders deployed search-and-rescue robots to help find survivors. The robots were supposed to be controlled via radio signals that never reached their targets.
"One of the things that became very clear was that the radio signals were lost rapidly between the transmitter, the robot and the person controlling the robot," electronics engineer Kate Remley said. "So, as a result, the robots were not able to go very far into the rubble pile to look for victims or for survivors."
From placing equipment inside soon-to-be-imploded buildings to testing a robot's ability to send audio and video in abandoned mines, Remley and other researchers at the National Institute of Standards and Technology are working to improve the devices that emergency workers rely on.

Watch video of their research »
The institute conducts research in places that are notorious for rough emergency communications, from tunnels to collapsed buildings to oil refineries filled with metal that interferes with radio signals.
"We did some measurements in an old silica mine in northern California, where we deployed an urban search and rescue robot into the tunnel," Remley said.
"We monitored the radio wave communication, and we made note of where the signals failed, at what frequencies those signals failed and how far into the tunnel we could go before communication was lost. And we studied both the video that was being transmitted back from the robot and the control communications to the robot," she said.
The tunnel research revealed a "sweet spot": a particular frequency in mines, subways and tunnels where radio signals travel farthest. That may help researchers design wireless systems that are more likely to function in a disaster.
The sweet spot varies depending on a tunnel's dimensions. In a subway-sized tunnel, it is usually in the range of 400 megahertz to 1 gigahertz.
Creating "smarter" robots may also help improve disaster communications.
"A [smarter] robot will monitor its own received signal strength, so it will know when it is beginning to lose communication with its operator, and it will automatically deploy a little repeater [a device that can amplify and rebroadcast a radio signal] behind itself," Remley said.
"So it's a kind of artificial intelligence. The robot is saying, 'I know that I'm in a weak signal environment. I need to correct for that right away.' "
Not all of the research is done in difficult or dangerous places. The National Institute of Standards and Technology labs in Boulder, Colorado, have some intriguing facilities that also assist researchers in understanding how radio waves move.
One is the anechoic chamber, which means "without reflection." Remley said it is a very good facility for testing one transmitted signal and one received signal, because there are no reflections off the walls.
The campus also contains a reverberation chamber that creates the exact opposite effect.
"The idea here is, get as many reflections as possible," engineer Chris Holloway said.
"The magnetic fields bounce around inside this room. If we have a piece of wireless device [and] we want to see how it would work in environment X, Y, Z, we can come in here and change this environment, and it would give a researcher or engineer a very quick and dirty way of testing how a system might work," he said.
Researchers also put transmitters in buildings that were about to be imploded and measured their signals before, during and after the collapse. Then they tried to locate the equipment after the building was destroyed. Information from those tests could help find rescue workers with two-way radios and help pinpoint trapped survivors with cell phones.
Holloway and others also have created radio maps of public buildings, including shopping malls, sports stadiums and convention centers.
"Part of the project was to look at how these buildings might behave during a collapse," Holloway said. "If someone is trapped under the rubble, how might you locate them?"
Whether in government or private industry, there is sometimes a disconnect between what scientists think is important and the realities faced by first responders in the field. That's why the institute works closely with those who know what it's like in the trenches.
Lt. George Hough of the New York Fire Department has worked with Remley and others at the National Institute of Standards and Technology. He stressed that equipment that works well in a lab might not be adequate in a disaster setting.
"It's got to work in the field for a responder," Hough said. "It can't be too complicated, and it's got to work under many varying circumstances and conditions. So the more testing that is done, the more we'll be able to understand why it doesn't work in some of these environments."
Remley said there is an added motivation for this research: helping protect the lives of police officers and firefighters who do dangerous rescue work.
"We need standards in place that will ensure robust communication between whatever the new technology is. It's not just radios anymore. It's also the emergency beacons and robots," she said. "We need to make sure those technologies will operate in a very robust, reliable way."
E-mail to a friend