By Matthew Knight
LONDON, England (CNN) -- The inaugural Prix Pictet photography award has been won by Canadian Benoit Aquin for his series of images depicting desertification in China entitled "The Chinese Dust Bowl".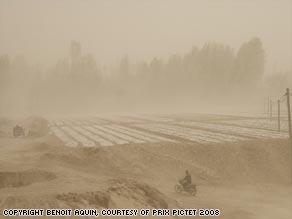 Photographer Benoit Aquin's shots of dusty Chinese landscapes earned him $86,000.
Organizers of the competition, which is worth 100,000 Swiss francs ($86,000) to the winner, hope that the award will cultivate greater environmental awareness.
Aquin, a photojournalist and landscape photographer, says that his images of China record the results of the largest conversion of productive land into sand anywhere in the world.
His images of people struggling in dust strewn towns and countryside beat 17 other candidates to the prize.
A hugely impressive shortlist included Chris Jordan's moving record of the devastation wrought by Hurricane Katrina, David Maisel's beguiling aerial photos of environmentally scarred landscapes and eerie shots of icescapes.
Speaking at the awards dinner at the Palais de Tokyo in Paris, former UN Secretary General Kofi Annan said: "It is my hope that the Prix Pictet, the world's first prize dedicated to photography and sustainability, will help to deepen understanding of the changes taking place in our world..."
Leo Johnson, co-founder of Sustainable Finance Ltd, and one of the seven strong judging panel, told CNN: "We are all numb, we all know this sustainability stuff and we get turned off by the statistics. They do nothing but anaesthetize us. So the idea of this competition was to use the unique power of photography to counter that numbness."
A look through the photos will confirm that the photographers have succeeded in thwarting any sense of numbness that Johnson refers to.
The Prix Pictet exhibition will stay at the Palais de Tokyo in Paris until November 8 2008 before starting a world tour. The first stop is the Dubai International Finance Center.
E-mail to a friend

All About Nature and the Environment • Photography