LONDON, England (CNN) -- David Hales is president of the College of the Atlantic, a U.S. college with an ecologically-centered approach.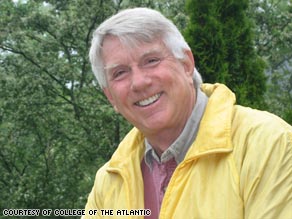 Hales: "Transition to societies that are sustainable and just will require rare courage and wisdom".
He appeared on Principal Voices in 2006.
Hales has been an environmentalist all his life. He has worked as Counsel for Sustainability Policy at the Worldwatch Institute and as director of the Global Environment Center of the United States Agency for International Development. He believes that we have a duty to future generations to fundamentally change the way we live.
CNN: How are things progressing at the College of the Atlantic?
David Hales: Very well. On matters particularly relevant to Principal Voices and the sustainability issue we achieved carbon neutrality in December 2007, which was a significant step for us.
We're 100 percent reliant for electricity on renewable energy from low head hydro and well down the road to switching all our heat sources to renewable energy as well. That will take a little while because that is a bigger investment.
The trustees of the college have pledged to make it 100 percent renewable by 2015. But for us that means all transportation as well. We don't know how to do that at the moment but we're upbeat that making the commitment is the first step.
CNN: And from the teaching perspective?
DH: Great. We have just received our renewed accreditation for the next decade. We are setting new records for graduation rates each year.
Right now we are one of about 300 colleges in the United States that meets more than 98 percent of our student-certified financial need. Two-thirds of our students receive financial assistance -- that's a very strong fundamental commitment for us. But that is going to get tougher in the years to come.
CNN: In the two years since you were on Principal Voices, how do you think the debates surrounding sustainability and climate change have moved on?
DH: Climate change has certainly gained a lot of attention and is now center stage, certainly in colleges and universities. Right after the time that I was on Principal Voices we became one of the founders of the American College & University Presidents Climate Commitment, which now has close to 600 colleges and universities that have pledged to achieve carbon neutrality through our schedules -- that's probably around half the student population in North America.
It is a major sign that higher education is paying a lot of attention to this.
Another development is that a number of rating services, magazines and others have started investigating and printing lists of sustainable colleges. And Grist, for example, finds that the College of the Atlantic is the greenest college in the world. Princeton has us in the top five.
More significant is that there is such demand from incoming students, donors and others that those who do ratings find that there is an interest in having sustainability rated.
For me, that is the really significant thing because that drives interest on a lot of campuses that might not otherwise be top of their priority. When sustainability becomes a factor in recruiting and raising funds then there is a strong motivation to do the right thing.
CNN: What issues are stirring debate on campus?
DH: On the climate front there is tremendous interest on the part of students and faculty in Copenhagen, for obvious reasons.
In some ways, it's the single most important negotiation of the last 150 years. It will have more impact on human rights than the Universal Declaration on Human Rights. If we don't get the climate right then a lot of things are going to have real difficulty achieving their goals.
There is a tremendously strong committed focus on trying to help shape U.S. policy and participate with civil society in trying to get the formula spectrum out of Copenhagen to be aggressive and capable of dealing with the build up of greenhouse gases.
CNN: Are you confident that the new President -- whoever it is -- will provide more leadership on climate change?
DH: It would be impossible to be worse than George W. Bush.
Every sign seems to indicate that we'll have a strong majority in both parties that understands the importance of climate change and that we will have a Democratic administration that will bring back some of the strongest voices of the Clinton/Gore years plus a number of new others. I am hopeful we will see a significant change in U.S. position perhaps even as early as Poznan.
E-mail to a friend

All About Nature and the Environment