LONDON, England (CNN) -- Ever since scientists began seriously exploring the possibilities of human genetic alteration, observers have tossed around the term, "designer baby."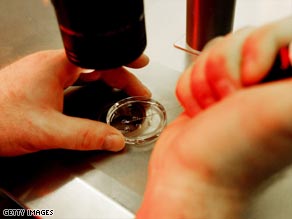 Good or bad? What do you think of embryo screening and human genetic alteration?
But with genetic screening already happening -- including the ability to select a baby's sex -- the possibility of being able to "design" a baby has never been more real.
British scientists have recently revealed a new karyomapping test that could become a universal way to screen for potential disease in embryos. This would allow parents a chance to dictate which types of genes are implanted in the woman's womb.
And the rush to identify which genes provide which characteristics in the human body is on, meaning we could one day be able to inject specific genes into an embryo to achieve a desired result.
While many scientists talk of the benefits of genetic screening and genetic alteration, including most notably the potential for eliminating hereditary diseases and disorders, others are more skeptical and have great concerns about the technology.
The Center for Genetics and Society is trying to encourage debate about the topic. It says there is a huge risk that this technology could be misused and lead to clinics where future parents could select the skin and hair color, height, and many other characteristics of their child.
The center's executive director, Richard Hayes, fears genetic alteration could lead to a race of genetic elites -- or cause irreversible damage to the human race.
Share your views on designer babies
What do you think of sex selection and other types of genetic alteration?
Do you think we should be able to choose the sex or even hair color of our children? Or is this dangerous?
Do the medical purposes of this technology outweigh the negatives?
Post your comments in the Sound Off box below and we'll publish the best.
E-mail to a friend