By Matthew Knight
For CNN
LONDON, England (CNN) -- The International Energy Agency has called for a global energy revolution to ensure future supplies and to stem the rise of greenhouse gas emissions.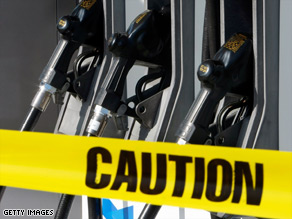 The IEA said the economic crisis must not delay urgent action on energy supplies and emissions.
In its annual report -- 2008 World Energy Outlook (WEO) -- published last week, the agency describes the world's energy system as being "at a crossroads" and calls for traditional supply and consumption methods to be overhauled.
Nobuo Tanaka, Executive Director of the International Energy Agency (IEA), said: "Current trends in energy supply and consumption are patently unsustainable -- environmentally, economically and socially -- they can and must be altered."
The new WEO projections -- which assume no new government policies -- see energy demand increasing at the rate of 1.6 percent year on year until 2030 -- a overall increase of 45 percent. The WEO estimates this will cost $26.3 trillion, but it says the "credit squeeze" threatens to undermine investment which could create energy supply problems in the future.
Demand for coal will rise higher than any other fuel while oil demand is expected to rise from 85 million barrels per day to 106 mb/d by 2030. "Oil," says the report, "will remain the world's main source of energy for many years to come, even under the most optimistic of assumptions about the development of alternative technology."
Production rates are declining at oil fields and demand continues to rise and oil companies are facing "dwindling opportunities to increase reserves and production."
"One thing is certain," Nobuo Tanaka said. "While market imbalances will feed volatility, the era of cheap oil is over."
The WEO expects China and India to account for over half the incremental energy demand, while the Middle East is predicted to become a major new demand center. Cities worldwide will increase their share of energy demand from two thirds to three quarters by 2030. Almost all of the increase in fossil-energy production will occur in non-OECD countries.
"Rising imports of oil and gas into OECD regions and developing Asia, together with the growing concentration of production in a small number of countries, would increase our susceptibility to supply disruptions and sharp price hikes," Tanaka said.
"At the same time, greenhouse-gas emissions would be driven up inexorably, putting the world on track for an eventual global temperature increase of up to six degrees Celsius."
At the projected rates of demand, energy related CO2 emissions will rise 45 percent from 28 gigatons now to 41 gigatons by 2030.
Stabilizing greenhouse gas concentrations at 550 ppm -- which would invoke a rise in temperature of about three degrees Celsius -- would require energy emissions to rise no higher than 33 gigatons and would need to fall in the longer term.
To achieve this, the WEO estimates that renewable and carbon-efficient fossil-fuel energies will have to expand their share of the energy mix from 19 to 26 percent by 2030. This would require an extra $4.1 trillion of investment on top of the projected $26.3 trillion figure.
The challenge of achieving a 450 ppm target -- the point at which NASA scientists believe dangerous warming could be triggered -- will be far harder. Emissions would have to reach no higher than 26 gigatons. In this scenario, low-carbon energy would have to contribute 36 percent and cost $9.3 trillion (0.6 percent of annual world GDP).
"We would need concerted action from all major emitters. Our analysis shows that OECD countries alone cannot put the world onto a 450 ppm trajectory, even if they were to reduce their emissions to zero," Mr. Tanaka said.
The WEO report called on all governments to act quickly to "steer the world towards a cleaner, cleverer and more competitive energy system".
In a statement, the WWF welcomed the IEA calls for an energy revolution and described the IEA's climate friendly scenario as "truly ambitious compared to earlier IEA scenarios."
"Governments have shown that they have a pivotal role in regulating the financial markets," said Dr Stephan Singer, Director of WWF's Global Energy Program. "They need to assume a similar role in relation to energy markets and their emissions into the atmosphere."
E-mail to a friend

All About Oil Prices • Nature and the Environment • Energy Policy