By Matthew Knight
For CNN
LONDON, England (CNN) -- It is probably the most unusual tent you'll ever see.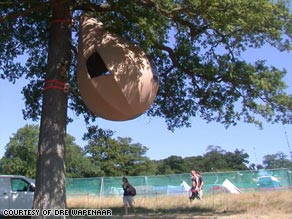 Dre Wapenaar's Treetent made an appearance at the UK's Big Chill festival in 2006.
Dangling from a tree trunk like a surreal oversized pear, the Treetent is a cross between a treehouse and a tent. But Dutch sculptor Dre Wapenaar sees his creation as much more than just a novel bit of camping kit. It is, he says, a piece of art.
Wapenaar is an artist with over 20 years professional experience, but the inspiration for creating tents stretches right back to his childhood.
"I started building them when I was a kid. We had a competition in the neighborhood to build the coolest tent," Wapenaar told CNN.
He graduated from the Academy of Visual Arts in Tilburg, Holland in 1986 and set up his own studio in Rotterdam the following year. He describes his sculptures as an artistic exploration of how groups of people and individuals relate to one another.
"People from all over the world are coming to live in Holland, so you have to make new forms of living together," he said. "The tent is a nice metaphor for studying this."
The tear-shaped frame of the Treetent is constructed from steel, covered in canvas and anchored to a tree trunk. It measures four meters high and is over two meters in diameter. The interior incorporates a horizontal wooden platform which Wapenaar says can sleep up to four people.
But it's not something you can pack up and put in your rucksack. "It's not a portable framework," he said. "It's closer to architecture."
He designed his first Treetent not for a campsite, but for a group of environmental activists in the UK who were hoping to frustrate a road building program through protected woodland.
That was ten years ago, but the interest in his sculptures -- particularly the Treetent -- has kept on growing.
Wapenaar still receives hundreds of emails every year from people interested in buying his Treetent. But as he points out, it is not a commercially available product, and the price tag of 30,000 euros usually dampens the enthusiasm of the average camper.
He gets frustrated by media reports that celebrities keep buying up his work. "The gossip was that Victoria Beckham bought one," he said. "But it's a lot of crap. She didn't buy one."
When he's not fending off rumors about well-heeled customers buying his art, Wapenaar continues to expand his portfolio, exploring different types of tent sculptures including the Birthingtent and the Showertent.
His collection has grown into a diverse and elegant range of sculptures including bivouacs, kiosks, villages and pavilions.
His most recent creation, the Recital Pavilion, was unveiled at this year's Poetry International Festival in Rotterdam. A tent-like space for intimate piano concerts, it reinforces Wapenaar's commitment to exploring human communication through his art.
E-mail to a friend

All About Architecture • Nature and the Environment • Design