By Matthew Knight
For CNN
LONDON, England (CNN) -- For a century the gasoline engine has remained largely unchallenged, seeing off all pretenders to its crown. But with concerns about greenhouse gas emissions and a host of new contenders looming large in the rear view mirror, is the gasoline-fueled automobile due to be overtaken by a fleet of cleaner, leaner rivals?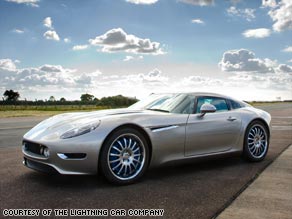 The Lightning GT is an electric sports car which does 0-60 is less than four seconds.
CNN takes a look at the competition, from electric vehicles to cars that run on hydrogen, solar power and even air.
SCIENCE THAT WILL CELL?
Hydrogen powered cars are emissions free -- expelling only drops of water from the exhaust -- and fuel-cell technology is proven. NASA has been using hydrogen to power space missions since the 1960s.
A fuel cell works by converting chemical energy into electrical energy which in turn powers the vehicle. Unlike electric cars, hydrogen-powered vehicles don't need recharging.
Earlier this year, Honda became the first manufacturer to complete production of the first commercial hydrogen fuel-cell vehicle -- the FCX Clarity -- which is powered by a 100-kilowatt V Flow fuel-cell stack.
But they are expensive -- "hundreds of thousands of dollars each," says Honda -- and only 200 have been made (by hand). Honda is leasing out the FCX to a variety of hand-picked customers, including actress Jamie Lee Curtis and Japan's Ministry of the Environment.
Dozens of motor manufacturers are currently designing new cars with fuel-cell technology.
As part of its 2009 centenary celebrations, the United Kingdom's Morgan Motor Company is developing the LIFECar -- a lightweight fuel-efficient car based on the chassis of the company's Aero 8 model.
The LIFECar is powered by a small fuel cell (22 kilowatts) which has been built by British defense contractor QinetiQ. It has a set of ultracapacitors which helps it to accelerate a lot faster -- zero to 60 miles per hour in six to seven seconds.
Malcolm McCulloch, leader of the Electrical Power Group at the UK's Oxford University is helping Morgan with the electric motors and power electronics on the car.
"At the moment we are still doing tests on the car, but it looks like it will be emitting around 50 grams of carbon per km equivalent, which is five times better than most vehicles will do now," McCulloch told CNN.
As the most abundant chemical element in the universe, hydrogen isn't about to run out, either.
Professor Rob Thring, Chair in Fuel Cell Engineering at the UK's Loughborough University, told CNN: "If you go out a buy a bottle of hydrogen today it will almost certainly be manufactured from natural gas -- which is not very green.
"But there is a better way. If you electrolyze water using electricity you've made from wind turbines, wave or solar, then you can say that you have completely carbon-free transportation."
VERDICT
Hydrogen fuel-cell cars aren't ready to surpass the gas engine. They are currently very expensive to produce and Honda says a mass-production model is still a long way off. But in the long term they could be the best option. Fuel-cell cars are an incredibly clean and efficient mode of transport.
"We need to build up the infrastructure in the same way that we did in the 1900s with petroleum," says Professor Thring. "The time it takes to roll out the infrastructure will depend on the incentive, but I think a significant proportion of the total vehicle fleet will be hydrogen fueled in ten years time."
John Turner, Research Fellow at the National Renewable Energy Laboratory (NREL) in Colorado, U.S. says: "It's going to take a long time to build up a fuel-cell manufacturing base. But for a species that wants to maintain the viability of the planet, hydrogen is perfect."
OUR FRIENDS ELECTRIC?
Historically, electric vehicles have been seen as the slow, fiendishly uncool cousins of the gasoline car. And recent additions to the electric family, such as the REVA G-Wiz, launched in 2001, have failed to erase the rather negative connotations of going electric.
But the latest advances in battery technology could dramatically change the fortunes of electric cars. Powering cars with lithium-ion batteries is transforming their capabilities. Lithium-ion batteries are lighter, require less maintenance and hold their charge much longer than old fashioned lead-acid batteries.
The Tesla Roadster, the much-hyped first fully electric sports car, is powered by a lithium-ion battery and is proof that the electric car has moved on.
With a full 3.5 hours charge, it will travel 250 miles. The Roadster will go from zero to 60 in 3.9 seconds and has a top speed of 125 miles per hour. Less impressive is the price tag: around $100,000.
Hot on the heels of Tesla is the UK's Lightning Car Company, whose Lightning GT is even prettier than the Roadster and comes with a similar spec. It is even more expensive -- around $180,000 -- but does come with the option of a NanoSafe lithium titanate battery which can be charged in just 10 minutes.
While these cars aren't exactly within reach of most people, there are plenty of new companies -- including Chevrolet, with its forthcoming Volt -- that are lining up to sell motorists an affordable electric vehicle.
Founded in 2006 by two former Lotus engineers, Julian Wilford and Evert Geurtsen, the Nice Car Company has a fleet of two-, four-passenger and commercial vehicles, including the Mega City and the Mega MultiTruck.
The Mega City costs around $18,000 and has a range of 60 miles on a full charge of eight hours. That's perhaps a bit too pricey for the performance, but costs should come down as technology improves.
VERDICT
Oxford University's McCulloch says electric cars look like they might dominate the market in the coming years. "The advantage of batteries is that there is a ready infrastructure there," he said.
Renault's electric vehicle project director, Serge Yoccoz, told the International Herald Tribune recently that he expects electric vehicles to represent as much as 20 percent of the European market in 10 years.
And the UK Government's Committee on Climate Change has predicted -- perhaps rather boldly -- that 40 percent of cars on British roads will be electric by 2020 if tough greenhouse emissions targets are met.
But John Turner from the NREL isn't convinced that electric cars are the way to go in the long term.
"Batteries are a material intensive technology. As you buy more batteries, the costs don't necessarily go down," he said. "The nickel metal hydride battery they use in the [Toyota] Prius is a classic example. If the demand for nickel goes up, the price goes up."
Toyota is still losing money on the Prius because of the cost -- close to $5000 -- of the battery.
Click here to read what the experts say about air and solar powered vehicles
E-mail to a friend

All About Cars and Car Design • Nature and the Environment