By Matthew Knight
For CNN

LONDON, England (CNN) -- With the U.S. auto industry's immediate fate now resting on the amount of money that Congress place in their begging bowl, it's worth noting that cash alone is not going to save them in the long run.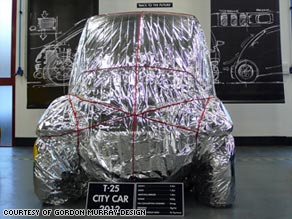 Gordon Murray's T25 could revolutionize motoring in the 21st century.
But people like Gordon Murray and his vision for a revolutionary new car just might do.
Murray's name will be familiar to motor racing enthusiasts. He was responsible for the design of some of the most successful cars in Formula 1 history and created the iconic McLaren F1 supercar.
But with his new company, Gordon Murray Design Limited, he's now turning his considerable talents to a car that is much smaller and considerably cheaper to own and run.
The T25 is Murray's attempt at creating an entirely new class of vehicle. Designed primarily for city and suburban use, the new car will be smaller than a Smart car (three of them can fit into a single parking space), light (around 500 kilos), twice as efficient as an average car and will have the lowest emissions of any car in the same class.
But that is only half the story. Murray's motivation for creating the T25 runs far deeper. He wants to design a car that doesn't cost the earth to make -- financially or environmentally.
"At the moment, there is an inflexibility that's inherent in our automotive manufacturing process." Murray told CNN from his offices in Surrey, UK.
So where possible, he's using recycled materials and reducing the number of parts. He wants to make the entire assembly process more modular with easy to replace body panels. The whole chassis will be designed so that it can "flat pack" for easy and efficient transportation.
It is this painstaking attention to detail that Murray has built a career on, but he concedes that the material and process selection has been the most challenging task of the whole project.
Once Murray and his team of engineers have completed the design he will look to sell the license to build the T25 to motor manufacturers.
He hopes to unveil a prototype in 2009 and a basic model will cost around $8,000. Until then we will have to settle for tantalizing glimpses of it wrapped in foil.
It is 100 years since Henry Ford started production of the groundbreaking Model T and Murray believes he is developing a car that will usher in a new era in motoring.
With his design pedigree, few people would bet against Murray succeeding in creating the blueprint for city cars of the future.
E-mail to a friend