LONDON, England (CNN) -- In August, Just Imagine took a wider look at the possibilities of tomorrow, including what could be a sign that the United States is losing ground as a leading superpower in space.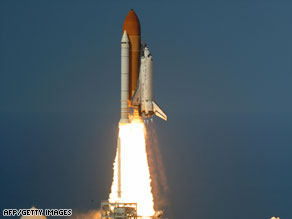 When the shuttle retires in 2010, NASA will have to rely on Russia for space access until at least 2014.
This sign stems from the fact that after NASA retires the shuttle in 2010, the United States will have to rely entirely upon Russian Soyuz capsules and rockets to ferry astronauts to and from the International Space Station for half a decade.
The space agency had hoped it could narrow the five-year gap but announced earlier this month that because of inadequate funding and technical problems the new Constellation space program would not be ready until 2014 -- a year later than originally projected.
Problems may only be exacerbated for NASA if Congress fails to waive an exemption in a law that would prohibit the United States from buying Soyuz seats after 2011.
"It is a lose-lose situation," Democratic Sen. Bill Nelson told CNN. "We have a $100 billion space station, and in theory, we couldn't even get people up there."
While NASA officials say the space agency has total confidence in the Soyuz, others worry the system is not safe, especially after two capsules made troublesome landings in recent months.
"There is a safety issue being raised," said Howard McCurdy, a space expert at American University in Washington. "There is the concern that these near misses are not being treated as educational experiences."
We want to hear your views. Should NASA rely on the Soyuz to get to space or look for other solutions? Are concerns about NASA's reliance on Russia overblown since space station is a joint partnership among countries? Should someone be blamed for America's dependency on the Russian Federal Space Agency?
Post your comments in the Sound Off box below. We'll publish the best.
E-mail to a friend