(CNN) -- Breakfast with coffee and a pastry in the sunshine in one of Florence's many squares -- we like to people-watch at Cavalli's Giacosa (Via della Spada, 10) or Caffè Rivoire (Piazza della Signoria).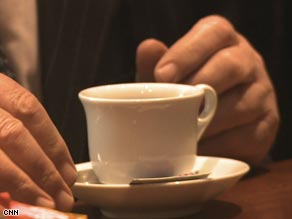 Start your day with Italian coffee and a pastry in one of the city's bustling cafes
After a morning spent sight-seeing, join the locals for lunch at the Mercato Sant' Ambrogio on via Pietrapiana. East of the Duomo and less pricey than Mercato Centrale, you can work up an appetite by wandering around the fresh produce, then dine on great-value pasta for just a few euros: wash it down with a cold beer. When you're replete, work off those carbs with a stroll around the market stalls outside.
Sold from food carts and market stalls, Lampredotto is a local delicacy. Made from the final part of a cow's stomach, this tripe-like substance can be an acquired taste, but locals devour it with passion. Eat as a sandwich (Panino con il Lampredotto) with the bread dipped in the stew's broth; slather it with chili sauce.
By mid-afternoon, you'll be ready to cool down. You're in Italy, so gelati is a must. The Il Gelato Vivoli parlor (7, Via Isola delle Stinche) is famous, and its rich treats are the best in Florence, but the Gelateria Dei Neri (Via Dei Neri 20/22 Rosso) gets our vote for its fresh-flavored fruit ices; if you're feeling brave, cool down with a chili-flavored cone.
For a meal suffused with the spirit of Tuscany, Il Latini (Via dei Palchetti 6r ) is the place to be -- get there early to grab a table -- while those in the know queue around the block for the pizzas at Café Italiano (Via Isola delle Stinche). Those with a sweet tooth will love the desserts at Mama Gina's on Borgo S. Jacopo (the aubergine parmiggiana's also great).
Florence's most celebrated restaurant, Enoteca Pinchiorri (Via Ghibellina 87), might draw in the gastro crowds, but for an authentic Florentine experience, take a wander through the side streets. Follow the local crowds to one of the many hole-in-the-wall family-run restaurants, complete with wobbly wooden tables, candles in Chianti bottles and carafes of cheap Tuscan red wine. The proprietors might not speak English, and lack the crystal chandeliers of loftier eateries, but you'll be rewarded with great food at little prices.
......................
Florence City Guide:
Where to stay | What to see | Where to be seen | Where to eat | Where to shop

......................
Do you agree with our Florence picks? Send us your comments and suggestions in the "Sound Off" box below and we'll print the best.
E-mail to a friend