(CNN) -- Founded by Caesar, this cradle of the Renaissance nestles in the craggy hills of the Arno valley; its white houses with their orange roofs gleam in the hot sun.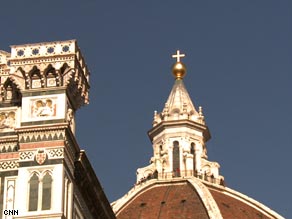 The Duomo, one of Florence's many unmissable sights
This cultural crucible at the heart of Tuscany has spawned Giotto, Michelangelo, Dante, Da Vinci and Botticelli amongst legions of others, and their rich legacy inspires throngs of art-lovers to make the pilgrimage here.
In summer, the city is crammed with tourists thirsting for culture. And they find it in droves: From the lofty heights of the stunning Duomo to the treasures of the Uffizi galleries, Florence can leave visitors dizzy and overwhelmed.
My City_My Life
Each month CNN visits the world's coolest cities with the celebrities who know them best.


Florence is also the birthplace of Italian fashion. Fashion houses Gucci, Pucci and Cavalli were founded here, as was Ferragamo, while Prada, Chanel, Armani et al retain a strong presence in the city. Remnants of the textile industry still remain on the outskirts, now backed by thriving designer outlets.
The old town, despite its hawkers pushing fake designer handbags, is suffused with old-school romance. But do not be fooled by its gentle appearance: Alongside this rich seam of culture lies a city with a passionate heart. Florence's past is bloody and violent. The city was founded to house Caesar's veterans -- the Romans built its bridges, though only the Ponte Vecchio remains -- and its robust peasant cooking speaks of tougher times. The seat of the Medicis and birthplace of Machiavelli, Florence is no stranger to political wrangling, shifting alliances and backstabbing machinations.
Don't Miss

Away from the center, its dark, crooked, dirty streets and formidable palazzos stand guard against the masses, as can the Florentines, who often come across as reserved to outsiders. The city's riches are reflected in its citizens: polished, refined and impeccably groomed, the Florentine natives are easy to spot amongst the throngs of art-hungry, footsore tourists and gap-year students.
But they can afford to be complacent: Florence is not a cheap destination, yet the locals are outnumbered by tourists throughout the warmer months. Their sought-after city houses the finest art known to mankind. And if the world were a treasure map, X would surely mark this spot.
E-mail to a friend