By Mark Tutton
For CNN






PARIS, France (CNN) -- Multi-talented French actor, director and writer Mathieu Kassovitz has gone from being the enfant terrible of French cinema to Hollywood movie-maker, romantic lead and even poster model for a men's fragrance.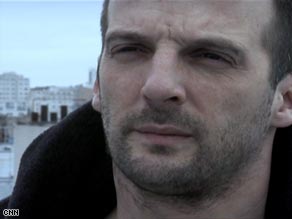 Mathieu Kassovitz first came to prominence as the director of the cult French movie "La Haine."
Perhaps best known to international audiences for his role as Nino Quincampoix, the love interest in heart-warming French romance "Amélie", Kassovitz won the Best Director Award at the Cannes Film Festival when he was just 28 and has starred alongside the likes of Nicole Kidman, Eric Bana and Daniel Craig.
Kassovitz was born on August 3 1967, with movies in his blood. His mother Chantal Remy is an editor and Hungarian-born father Peter Kassovitz a director, whose many works include 1999's "Jakob the Liar". Kassovitz says that if his parents had been bakers, he would have become a baker -- and no doubt he would have made award-winning petits fours.
Instead, he fell in love with cinema watching Hollywood blockbusters as a boy and Kassovitz made his screen debut in 1979 in his father's "Au Bout du Bout au Banc". He cast himself in the first-full length movie he directed,1993's "Matisse" ("Café au Lait" in the US), and later married co-star Julie Mauduech, with whom he had a daughter in 2001.
My City_My Life
Each month CNN visits the world's coolest cities with the celebrities who know them best.


It was acting that first brought Kassovitz his first award, winning a César (the French equivalent of an Oscar) for Most Promising Actor in 1995 for his role in "Regarde les Homes Tomber", but it was directing that would make a star of Kassovitz, with the release of his breakthrough movie "La Haine" in 1995.
Explosive, controversial and stylish, "La Haine" ("Hate" in the US) explored racial and cultural tensions in the ghettos on the outskirts of Paris. It won Kassovitz the Best Director award at Cannes and a César for best film. The film had such an impact in France that a special screening was set up for government officials and it earned Kassovitz a reputation as an important and radical movie maker.
In 2001 Kassovitz earned international recognition as an actor. In Jean-Pierre Jeunet's multi-Oscar nominated "Amélie" Kassovitz showed another side to his character. As Nino, the object of Amélie's affection, he managed to be charming, innocent and eccentric; as heart-melting as Audrey Tautou's doe-eyed heroine. Suddenly transformed from art-house provocateur to heart-throb, Kassovitz took perhaps the most surprising role of his career, becoming the face of Lancome's Miracle Homme fragrance.
Don't Miss
Kassovitz has made it clear that he wants to make films that are successful outside France and he has raised his international profile by starring in childhood hero Steven Spielberg's "Munich" and directing psychological horror movie "Gothika", starring Halle Berry, Penelope Cruz and Robert Downey Jr.

But his arrival as an international star and Hollywood player doesn't mean that Kassovitz is no longer concerned about social issues. In the aftermath of rioting in Parisian suburbs in November 2005 (eerily reminiscent of those portrayed in "La Haine") Kassovitz defended the rioters on his blog, writing, "As much as I would like to distance myself from politics it is difficult to remain distant in the face of the depravations of politicians. And when these depravations draw the hate of all youth, I have to restrain myself from encouraging the rioters."
Now Kassovitz says he is taking a break from acting to concentrate on directing and he has recently completed work on "Babylon A.D.". Starring Vin Diesel, this sci-fi thriller sees Kassovitz trying his hand at the kind of Hollywood blockbuster he loved as a child. Whether in Paris or Hollywood it seems that Kassovitz's versatility is matched only by his ambition.
E-mail to a friend