By Mark Tutton
For CNN
PARIS, France (CNN) -- Mathieu Kassovitz is an actor and director whose work ranges from French art house to Hollywood blockbuster. Cédric Klapisch is a director whose latest film "Paris" is a tribute to the city and its residents. My City, My Life got them together to talk about the city that is both their home and inspiration.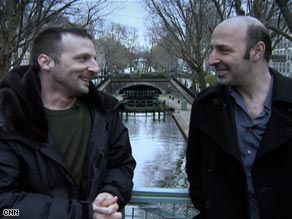 Mathieu Kassovitz (left) and Cédric Klapisch are both directors who have made Paris the suject of their films.
Mathieu Kassovitz: So Cedric, you have just finished directing a movie called Paris; you've been around the world shooting in every town and you decided to stop and come back to where you belong: why?
Cédric Klapisch: Because Paris is my city and because I feel like you can describe well where you live and where your home is. I feel like, when I shoot a movie in Paris I know how it works and how people react and how it is to be in the streets around here and it's just that, the more I film Paris, the more I know how to film Paris.
Mathieu Kassovitz: So it's not just the buildings?
Cédric Klapisch: It's not only the fact that it's one of the most beautiful cities in the world, it's really because I feel good here and I feel like that there's something happening right now where there is more creativity than before.
Mathieu Kassovitz: What do you think has changed in Paris over the past twenty years? What do you miss in Paris?
My City_My Life
Each month CNN visits the world's coolest cities with the celebrities who know them best.

Cédric Klapisch: I think we have a good combination between fashion, good food and the fact that there is something about creativity. I think it's the same creativity that we put into food and into clothes and hopefully we put into movies. And I think that it's evolved in the last twenty years because I think people accept more the idea of being modern is not a problem. Before we had to stick to the old fashioned way of living and I think now that being modern is not a problem anymore. I think there is a good mix between modern things and old things.
Mathieu Kassovitz: I think Paris is a pretty active city. I wouldn't have put it as a creative city, I would have put it as a hectic and a hard city to live in because it's expensive and going fast. It's not going as fast as New York or London but it's pretty fast. When you go around Paris you can feel always the pressure of the cars and the buildings and the concrete, but the more we go, the more it looks like it is becoming free and people seem a little more happy to live here.
Cédric Klapisch: I think so. It's funny that a lot of American people are coming back to Paris, because there's the old wave of American people ... a lot of the jazz musicians used to come here. I think there's a new thing.
Mathieu Kassovitz: A lot of tourists get scared in Paris because they hear a lot about the riots, about the protesting all the time. Every time you bring somebody to a hotel at Republique you know within six days they will see, not a riot, but a protest against something. Every week there is something going on.
Cédric Klapisch: A demonstration.
Mathieu Kassovitz: Yes, a demonstration, every time, and that scares a lot of people because it can get ugly. But as Parisians we accept all this. We accept all these demonstrations, even if it messes with our lives. We agree with it because we are ... I express Parisians as fighters, as people that never give up.
Cédric Klapisch: It's true. People never give up and they want something more and they are always angry that they can't get more. I think that it can be seen as a bad temperament and I kind of like that about Parisians: that there's something absolute to reach, and I think that when you're used to this you don't see it as violence anymore.
Mathieu Kassovitz: Absolutely, on the contrary, I think it's a fuel. I remember when I used to live in L.A. I could only stay 3 months and I had to come back to Paris. As soon as I was off the plane and got into a taxi I would start to argue * and as soon as we would start to argue about something, or just argue against each other, I would feel 'ah, the energy's coming back to me'.
Cédric Klapisch: I think it's much more peaceful in reality than what you think it is in France.
Mathieu Kassovitz: And the good thing is, you can argue with people in the streets and nothing bad will happen. We love discussion. Every time we have some protest going on, people love to stop by and talk about it. That's something I'm really proud about, that we have conscious citizens.
Cédric Klapisch: You're not going back there to the United States? You don't feel like working there? Why?
Mathieu Kassovitz: Two different cultures. I need the friction, I need to able to live and interact with people and it's difficult to do that where you don't belong. And here, I feel comfortable; I feel comfortable to create, I feel comfortable with people. I know what the rules are and it makes it a lot easier. I wanted to stay in America because it's beautiful, but I need the grey, I need the cold, I need the dusty cars and heavy pollution: I need that luxury.
E-mail to a friend