By Mark Tutton
For CNN
PARIS, France (CNN) -- When he was just 28 Mathieu Kassovitz won the Best Director award at the Cannes film festival for his controversial movie "La Haine".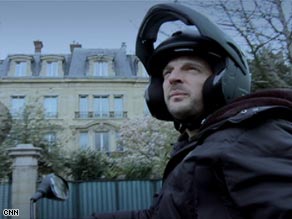 Kassovitz says the best way to see the city is on the back of a motor scooter.
Since then he has melted hearts playing Nino in "Amélie" and has made his mark in Hollywood as an actor and a director, starring in Steven Spielberg's "Munich" and directing psychological horror "Gothika".
My City, My Life spoke to Kassovitz about movie-making, creativity and life in Paris.
CNN: How does it feel to be part of Paris film history and growing up in the birthplace of modern cinema?
Mathieu Kassovitz: It's very inspirational to have seen all these movies that made French movie history and film history, period, and being able to go to the same places and see where all these pre-war movies were made. Paris is still the same as it was, so the spirit is the same also and it's kind of elevating for us directors to be in a town with a city soul, a lot of soul. So it gives you a lot of opportunities and ways of not just showing a city, but the spirit of that city; so that's what we keep on doing today.
CNN: What do you think it is about Paris that encourages creativity in people?
Mathieu Kassovitz: Buildings are, of course, amazing and locations are so cinematic that it's a pleasure for a director to shoot in a town like that. But especially the spirit of it, and the spirit of the Parisians, the way the city coexists with everybody and that mixture of different people and of different backgrounds. All that makes Paris inspirational for us.
My City_My Life
Each month CNN visits the world's coolest cities with the celebrities who know them best.

CNN: What was it that made you decide to become a film-maker?
Mathieu Kassovitz: Becoming a film-maker was, I think, a decision that I took while watching movies. It's just a way to express myself and a way to just try to bring to people when I walk around a city, when I see something. I became a director because I am urban: I live in a very urban and fast city. You go from place to place and you never stay in one place and that's what gives you the energy. And it's so cinematic, you can't avoid it.
CNN: Are Parisians the most stylish people in the world and are the men really the most romantic?
Mathieu Kassovitz: I think that men are not romantic anywhere in the world and Paris won't make it change. Stylistically talking, I think Parisians have a pretty good sense of taste and they know how to handle themselves. And I think French people, the Parisians especially, are kind of classy.
CNN: Your characters are always telling interesting anecdotes and little stories. Where does that come from?
Don't Miss
Mathieu Kassovitz: All those anecdotes are really part of what we are in France. We like to talk a lot, we like to scrutinize everything and just not let it go that fast. So we question everything, everything we do, everything that we see, and that's part of our culture.
CNN: You're pretty big time now, why are you still here and not living in the Hollywood Hills?
Mathieu Kassovitz: Why am I still here? Because this is the most beautiful city in the world! I wouldn't live in L.A. for any money in the world; it's no relationship, no comparison. Paris is a city with soul, it's a city with a past. You can feel it everywhere and I'm a part of it, I can't avoid it.
CNN: Are they any places you'd go to relax or just reflect on what you are doing?
Mathieu Kassovitz: No, in the city here, no, no, no. You know, my take on the city is that there is no specific place: the whole thing is crazy, the whole thing is inspirational. I don't go to places, I just drive around and I see things. I look at people more than the buildings -- and that's what makes stories.
CNN: What is it that makes it stay the same, what's it's heartbeat that makes Paris?
Mathieu Kassovitz: The heartbeat is Parisians. Parisians are obnoxious and impolite and everything you can imagine about them. But they are also very co-operative within themselves and are pretty open to everything else.
CNN: Do you think that there's one place in Paris that stands out amongst the others?
Mathieu Kassovitz: I think what I like about Paris are unknown and unnamed little streets that are not on the map, and the history that goes with it.
CNN: Do you think that you truly have to be part of a city, to share a history with it, to truly represent it as a director?
Mathieu Kassovitz: You have to know what you are talking about. It's interesting to go to a city that you don't know about and try to represent it but I don't think that you'll be able to bring the soul of the city in the movie. It takes a lot of time for me to get to another city -- anywhere in the world -- and like it, because I like this one so much and I know it so much that this is home. Anywhere else is not home.
CNN: If Paris was a person, how would you describe it to friends?
Mathieu Kassovitz: A good-looking girl with a big mouth -- very loud!
E-mail to a friend