PARIS, France (CNN) -- Meg, 33, has lived in Paris for about three and a half years, where she works as a health policy researcher. Originally from Kansas in America's Midwest, she moved to the city for love. While her relationship didn't last, her affair with Paris did. Her blog, Le Blagueur à Paris, covers the city's culture and food. She also writes for travel blog Gridskipper.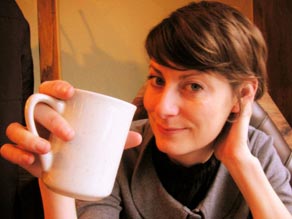 Meg came to Paris for love but when the relationship failed it was the city that stole her heart.
CNN: Hi Meg. What made you start blogging about the city of romance?
Meg: I found that chatting with friends and family in the Midwest I was struggling to convey the small details of life which make up the bulk of one's experience in any place. So I started to communicate those little stories and descriptions to friends and family back home. I never had any intention to be a proper blogger or to get into travel writing but it got picked up by the editor of a site called Expatica in a round-up of her favourite blogs. All of a sudden I had a lot of people from England and Germany coming to my site and my readership grew.
CNN: What do you enjoy writing about the most?
Meg: I like to write as somebody who is still experiencing the city in a new way.
I really like to write about the food. I'm obsessed with it because I grew up with very bland cooking and very limited tastes, so this has really been quite an expansion for me and a lot of fun.
My City_My Life
Each month CNN visits the world's coolest cities with the celebrities who know them best.


CNN: What has made the city so special to you?
Meg: Even though I've been here for a while, I feel like Paris is inexhaustible. I doubt I'll ever make it to all the restaurants that I want to try or half of the exhibitions that I'd like to see. There's always more monuments, markets that I haven't yet tried and a neighborhood that I haven't yet walked. In the three plus years that I've been here, I can't really say I've ever been bored.
The other thing I love about the city is its walkability, or, with the implementation of the new city bike program, its bikeability. It's just such a pleasure making my way across the city with music blaring and watching people -- it's great, it becomes addictive.
CNN: If Paris was a person, what would she or he be like?
Meg: Its personality definitely changes in every quarter. That's one of the pleasures of being here. Maybe in the west arrondissements, the 7th, 8th, 16th, the old stately posh quarters, it would definitely be a well-heeled older woman with a dog in her purse. Then if you cross town and go to Belleville where I live, you'll find 10 or 20 different nationalities and people tend to be a little more open with their neighbors.
You have a gastronome in one neighborhood and a Chanel-wearing young fashion assistant in another. There are student quarters where you still find the stereotypical turtle-necked young 20-something reading philosophy and smoking outside a café: there's many different faces to Paris.
CNN: Parisians do have a reputation for being cold and formal, almost closed. Is that true, and if it is, how do you get through that to the real Paris?
Meg: That's something people who've been in Paris for much longer than I have still struggle with. In general, it can be a very closed society -- people tend to keep the same friends that they made in high school, family is very important here and people aren't necessarily looking to add a whole lot of new people to their lives. Even after three years, 50 percent of my friend group is made up of foreigners of one stripe or another.
Don't Miss
I think the key to a lot of it is the language. Many of the Parisians I know are very uncomfortable trying out their English. So the better your French is, the more progress you're going to make.
As far as any tips for outsiders, many of my friends who've lived in Paris really take it personally if service staff in restaurants and shops are not fawning over them. They feel that they're doing something wrong and being judged for it. In fact, it's just a formal society.
CNN: Is Paris really the style capital of the world?
Meg: That's a very personal, subjective thing. Where I come from, people don't look very kindly upon those who are making an effort with their clothes. Comfort is king and anyone who is trying too hard is regarded with suspicion -- ball caps, baggy jeans, running shoes -- these are my people.
Parisians are quite the opposite. I see them as just as constrained and conformist, but the uniform is quite different. Here, you see fitted and tailored clothing as being in style, and dressing up is definitely not regarded as a pretension.
On the whole, I think it does look nicer, but I wouldn't go as far as saying it's particularly inventive or individual. I think you could probably find more freedom of expression on the streets of London, Stockholm or New York.
But one thing that certainly helps the French appear more stylish is that Parisians are rarely fat. On the whole, as a population, they just look better in their clothes.
CNN: Could you describe a typical Parisian's weekend?
Meg: On Saturdays, most people rush around madly, taking care of errands and necessities because shops tend to be closed quite early on weeknight evenings and all day on Sundays. On Saturday nights people will meet up at a restaurant or a gallery -- Parisians really take advantage of the cultural opportunities in the city.
Sunday is the best day. Sunday morning I go to the market in my neighborhood. There's hundreds of people there, you see your neighbors, you have conversations with your butcher, your baker, the man who sells roast chickens.

On Sunday afternoons, the market and all the shops are closed so you're really obliged to relax. Judging by the smells that are coming from my neighbors' apartments, a large proportion of the population cooks up a storm, which is really nice. Afternoon dinners are very common: dinners that start at 3 p.m. and go on for hours.
In the warmer weather, people head outside. A lot of the main streets along the Seine and the Canal Saint-Martin are closed to traffic so you see lots of people strolling along arm in arm. Cafes put little tables down, people have picnics, they play petanque -- lots of outdoor stuff.
E-mail to a friend