(CNN) -- Paris is a city made for strolling. When you arrive, follow the route from the Hotel de Ville to the Arc du Triomphe, through the Louvre, the Tuileries and up the Champs Elysees to gain an idea of how the city links together. If you've got lots of energy, keep going from the Arc du Triomphe to La Defense and the leafy neighborhoods of Neuilly-sur-Seine.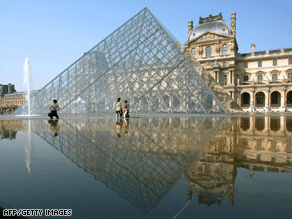 The Louvre is a popular tourist destinations and was used in the Hollywood blockbuster 'The Da Vinci Code'
Ramble along the rive gauche with your loved one, take a picnic to the serene Jardin du Luxembourg or head to the Pere Lachaise cemetery to hang out with Jim Morrison and other famous celebs passee.
Or you could cruise along the canals of La Vilette/Canal St-Martin -- start at Bastille and catch your breath at cafes en route -- or head to the 12th arrondissement to the Promenade Plantee, a 4.5km elevated park built on a former railway viaduct.
For sweeping views of the city, take a ride up the Tour Montparnasse, where, on a clear day, you can see 40km from the 210-meter-high helipad. Contrast that by heading below the city streets to the Catacombs, an extensive underground cemetery where the bones of several million former Parisians are stacked in grisly arrays -- or, if you can stand the olfactory assault, follow the snaking tunnels of the Paris sewers.
If you ever tire of the riches of the Louvre or the Monets and Renoirs at the Musee d'Orsay, Paris has plenty more to offer. Sculpture fans will love the Musee Rodin, crammed with the artist's finest and most famous works, including "The Thinker" and "The Kiss." Serious snappers will get their clicks at the Maison Europeenne de la Photographie, while the style tribe won't want to miss the Fondation Pierre Berger, home of Yves Saint Laurent's gowns and accessories.

......................
Paris city guide:
Where to stay | What to see | Where to be seen | Where to eat | Where to shop

......................
Do you agree with our Paris picks? Send us your comments and suggestions in the "Sound Off" box below and we'll print the best.
E-mail to a friend